3900 challans issued in Delhi on day 1 of the new Motor Vehicles Act!
September 02, 2019
Delhi is known for its crazy traffic. The issue is so troublesome that the government had to revise the traffic rules and implement new laws to ensure a smoother traffic flow. The new rule that got implemented on September 1 aims at bringing down the number of traffic rule violators and right on the first day 3900 challans were issued in the city.
Traffic has been one of the biggest issues for people living in the city and to tackle this, the Delhi Government has amended the existing Motor Vehicles Act and introduced a newer version in its stead.
What's the update?
If you have been one of those people who have been driving/riding on the Delhi roads without a care in the world, well, it seems that the time is up for that. With the amended Motor Vehicles Act, Delhi Traffic Police handed out exactly 3,900 challans on its very first day of implementation.
In a bid to promote road safety, Delhi government has chosen 'The stick approach' by implementing stricter rules and levying heavier fines on people who do not follow the traffic rules.
What does this mean for the common commuter?
The amended Motor Vehicles Act advocates for a stricter approach towards rule-breaking, which will be seen in the form of heavier fines and bigger penalties.
In simple words, where you had been able to get off with ₹100 as a no-helmet fine, now you'll have to pay ₹1,000 in its stead. Yes, the figure is 10 times more than what it was before!
Also, if you're found driving sans a license, you may be levied with a fine of ₹5,000 or face 3 months jail time .
Knock Knock
The days where you could simply let your hair fly in the wind while riding a bike or ignore traffic laws just for the heck of it, are done with. With stricter laws in place and bigger penalties to pay now, if you drive on the wrong side of the road, you'll end up on the wrong side of the law.
Make sure to follow traffic rules and steer away from being a daredevil on the road.
When in Delhi, getting bored or being out of things to do isn't an option for us. This city hosts something or the other on a routine basis and sitting our tashreefs down isn't something we Delhites like doing! So to keep us on our toes and to put a smile on our faces, Delhi is bringing in Vir Das and his band, Alien Chutney this March.
Subscribe to our newsletter
Often, when dropping someone off at the train station, getting on to the platform for a non passenger can be quite a chore. One has to go out of their way, even stand in long queues just to buy a platform ticket, which is not only time consuming but quite irksome. However, if you're looking to skip the queues and save some money, then here's something for you.
Have you ever been running late to the airport because of the sheer number of bags you have? If your answer is yes, then IGI airport has got you covered. Now, in a new initiative by the DIAL (Delhi International Airport Ltd) you can have your stuff transported to the IGI airport directly from your place of stay.
Delhi International Airport Ltd., the operators of IGI airport have partnered up with a Bengaluru based company called CarterX. In fact, this facility is not limited to be availed by only those taking off from Delhi, it can also be used to get your luggage delivered to your residence when you touchdown at IGI.
What's the update?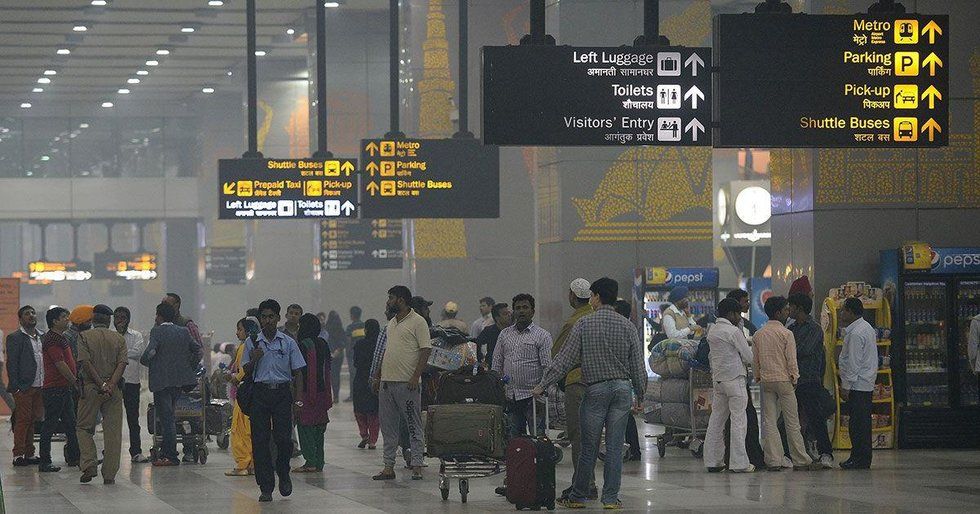 s02.sgp1.cdn.digitaloceanspaces.com
In a bid to make travelling to and from IGI airport easier for passengers, DIAL has undertaken a partnership with CarterX to start a service where a commuter's luggage can be transported to and from the IGI airport directly from their place of residence. This, essentially, is a step towards making checking in to the airport a breeze.

Additionally, if you're short on time and are planning to take the direct metro link to the airport, this is a great way to ensure that you don't have to lug your stuff around.
To avail the service, you will have to pay a fee based on the number, weight and size of the bags. The fee will also take into account distance to and from the airport, meaning the prices are going to be dynamically triggered. At any rate, the base fare is ₹299, which goes up depending on the aforementioned factors. For every 5 kilograms over 20kgs, an additional ₹100 will be charged.
Knock Knock
This is certainly one of the most passenger forward moves we have seen DIAL take. The IGI airport is at par with the best airports in the world and this is something that should take its rating all the way up. DIAL and CarterX have both stated that with this service, they aim to cover the entirety of Delhi, including neighbouring states- Haryana, Uttar Pradesh and Rajasthan.
For most of us from Noida, the Metro is nothing short of a lifeline. A saviour in times of need, the metro has connected various parts of Noida to mainstream Delhi. Now, however, you're going to have to take a different look at these metro trains, because you can rent them for throwing parties!
It's that time of the year again, when your Facebook will show you ads related to all things Valentine, there'll be a rise in pink-red teddy bears at the store windows and of course, the florists will be selling Roses at the price of Orchids. Valentine's Day is en route and if you too, are a part of Cupid's gang and love the day in all its glory, you must be scouting for things to do on this day with your beloved.