Horn OK Please, Delhi's happiest food festival starts TODAY & here are the deets!
February 14, 2020
Food Festivals are often the best place to find a good time. The energy, the wafting aroma of food, the opportunity to eat, shop and be merry is something we look forward to dearly. of all the food festivals that happen in Delhi, Horn OK Please is the one tyeb city is undoubtedly the most excited for.
---
Called Delhi's Happiest Food Festival- Horn OK Please, is a coming together of food, fun and frolic. The festival is back in town and this year is expected to be even more epic than any other one, since the theme this time is Valentine Day! With love, love for food and a tangible anticipation of something exciting in the air, this year's Horn OK Please is a festival you just cannot afford to miss.
What's Happening?
Horn OK Please, is back with its 7th edition at JLN Stadium and this time it's going to be extra special because the festival will take place over the Valentine's weekend on 14th, 15th and 16th February 2020. At the amazing event, you can find the best of food & drinks, homegrown bands, shopping, carnival rides, fun activities as well as tons of entertainment and immersive experiences!

The Horn Ok Please food festival boasts of 150 vendors plating over 1000 dishes! Which truly sounds like a win win situation for food lovers in the city. A paradise for food lovers, the carnival offers a variety of juicy kebabs, momos, street food, Pan Asian fare, unique food trucks, carts, tons of desserts and awe-inspiring Insta-worthy dishes.
Not just that, the carnival allows you to nosh on mouth watering dishes from single cuisine restaurants and eateries from across the country! Plus, you wouldn't have to worry about budget because the fare here starts at just under ₹250.
Valentine's Special
Keeping in with the special occasion of Valentine's Day, the festival will also have dedicated couples-only zones, which will be equipped with romantic photo ops, selfie points, and have several V-Day special dishes and drinks. The event will also have a plethora of activities where you can hangout with bae and have a gala time!

Which means, you can look forward to heart-shaped pizzas from Paparizza, some delicious bubble waffles from Bubble Trouble, meaty hotdogs from Kaavo Meats, Daulat Ki Chaat from the iconic lanes of Chandni Chowk, even some soft kulfi from Virender Ki Kulfi and more!
Knock Knock
Foodies will also be able to enjoy Horn OK Please food-favourites such as Woodbox Cafe, Koyla Kebab, Lodhi Knights, Indus Flavour, Xero Degrees & Sitaram Diwan Chand and various other places which offer a mouth-watering selection of dishes to binge on. So if you're looking for an epic experience for the Valentine's Day, head to Horn OK Please and let your love for food shine through!
Date: Friday - Sunday, 14th - 16th February | 12 Noon - 10 PM
Ticket: Rs 299 Onwards | Book your tickets https://www.facebook.com/events/586675582186475/
When in Delhi, getting bored or being out of things to do isn't an option for us. This city hosts something or the other on a routine basis and sitting our tashreefs down isn't something we Delhites like doing! So to keep us on our toes and to put a smile on our faces, Delhi is bringing in Vir Das and his band, Alien Chutney this March.
Subscribe to our newsletter
Often, when dropping someone off at the train station, getting on to the platform for a non passenger can be quite a chore. One has to go out of their way, even stand in long queues just to buy a platform ticket, which is not only time consuming but quite irksome. However, if you're looking to skip the queues and save some money, then here's something for you.
Have you ever been running late to the airport because of the sheer number of bags you have? If your answer is yes, then IGI airport has got you covered. Now, in a new initiative by the DIAL (Delhi International Airport Ltd) you can have your stuff transported to the IGI airport directly from your place of stay.
Delhi International Airport Ltd., the operators of IGI airport have partnered up with a Bengaluru based company called CarterX. In fact, this facility is not limited to be availed by only those taking off from Delhi, it can also be used to get your luggage delivered to your residence when you touchdown at IGI.
What's the update?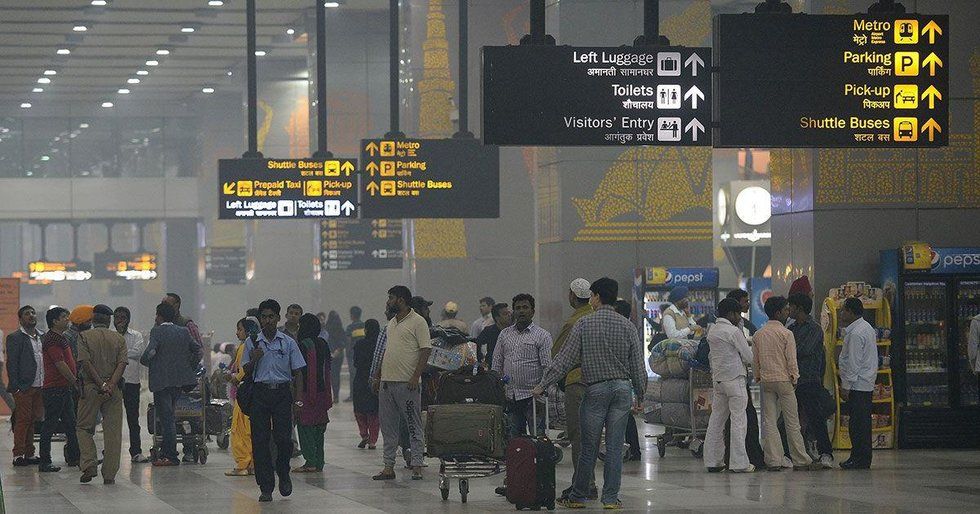 s02.sgp1.cdn.digitaloceanspaces.com
In a bid to make travelling to and from IGI airport easier for passengers, DIAL has undertaken a partnership with CarterX to start a service where a commuter's luggage can be transported to and from the IGI airport directly from their place of residence. This, essentially, is a step towards making checking in to the airport a breeze.

Additionally, if you're short on time and are planning to take the direct metro link to the airport, this is a great way to ensure that you don't have to lug your stuff around.
To avail the service, you will have to pay a fee based on the number, weight and size of the bags. The fee will also take into account distance to and from the airport, meaning the prices are going to be dynamically triggered. At any rate, the base fare is ₹299, which goes up depending on the aforementioned factors. For every 5 kilograms over 20kgs, an additional ₹100 will be charged.
Knock Knock
This is certainly one of the most passenger forward moves we have seen DIAL take. The IGI airport is at par with the best airports in the world and this is something that should take its rating all the way up. DIAL and CarterX have both stated that with this service, they aim to cover the entirety of Delhi, including neighbouring states- Haryana, Uttar Pradesh and Rajasthan.
For most of us from Noida, the Metro is nothing short of a lifeline. A saviour in times of need, the metro has connected various parts of Noida to mainstream Delhi. Now, however, you're going to have to take a different look at these metro trains, because you can rent them for throwing parties!
It's that time of the year again, when your Facebook will show you ads related to all things Valentine, there'll be a rise in pink-red teddy bears at the store windows and of course, the florists will be selling Roses at the price of Orchids. Valentine's Day is en route and if you too, are a part of Cupid's gang and love the day in all its glory, you must be scouting for things to do on this day with your beloved.