Maninder Buttar of 'Sakhiyan' Fame will be performing HERE in Delhi, on the 31st of Jan
January 31, 2020
Attend this Fusion Friday here at Mic Drop, Delhi.
If you're a desi Delhiite, there's no way that you haven't heard about the ultimate Punjab da noor, Maninder Buttar! Relatable lyrics which tug the chords of our hearts and soulful tunes which accompany us on our way to work every day, all of this and more is what Buttar stands for.
---
His song Saakhiyan, garnered over 400M views on YouTube and his songs Laree and Yaari have constantly topped the charts, bringing home the fame this artiste truly deserves. A gem of the Punjabi music industry, Maninder Buttar's tunes have been a deep-set part of our playlists and we're ardent fans of this charmer!
On that note, if you're a true-blue Buttar fan too, come over to the Mic Drop in South Delhi to be a part of their Fusion Friday featuring Maninder Buttar live on stage!
What's Happening?
To catch Buttar perform right in front of you, head over to Mic Drop on the 31st of January, where you'll get to sway to his songs 8 PM onwards. This event holds a promise of turning our ordinary Friday into an extraordinary Friyay and we can already feel a rush in our veins, prompting us to break into a happy dance right away!
Buttar has also collaborated with numerous Indian musicians, including the likes of Raftaar and Ammy Virk and if you're still unsure about attending this gig, just YouTube a couple of his songs- you'll be booking your tickets right away.
Knock Knock
Mic Drop is a new entrant into Delhi's nightlife scenes and it's a quintessential luxury bar in South Ex, which instantly gets you high on the vibes it exudes. The swanky interiors have our attention and the menu, is impressive too, which makes for a great weekend nook for us. So head over with your sakhis and sakhas for an epic evening of Buttar and delish grubs!
Location: M-4, South Extension 2, New Delhi
Timings: 12noon – 1am
Cost: ₹2,000 for two people (approx.)
For tickets, contact: +91 97738 98073/ ‭+91 97738 98074
Subscribe to our newsletter
Have you ever been running late to the airport because of the sheer number of bags you have? If your answer is yes, then IGI airport has got you covered. Now, in a new initiative by the DIAL (Delhi International Airport Ltd) you can have your stuff transported to the IGI airport directly from your place of stay.
Delhi International Airport Ltd., the operators of IGI airport have partnered up with a Bengaluru based company called CarterX. In fact, this facility is not limited to be availed by only those taking off from Delhi, it can also be used to get your luggage delivered to your residence when you touchdown at IGI.
What's the update?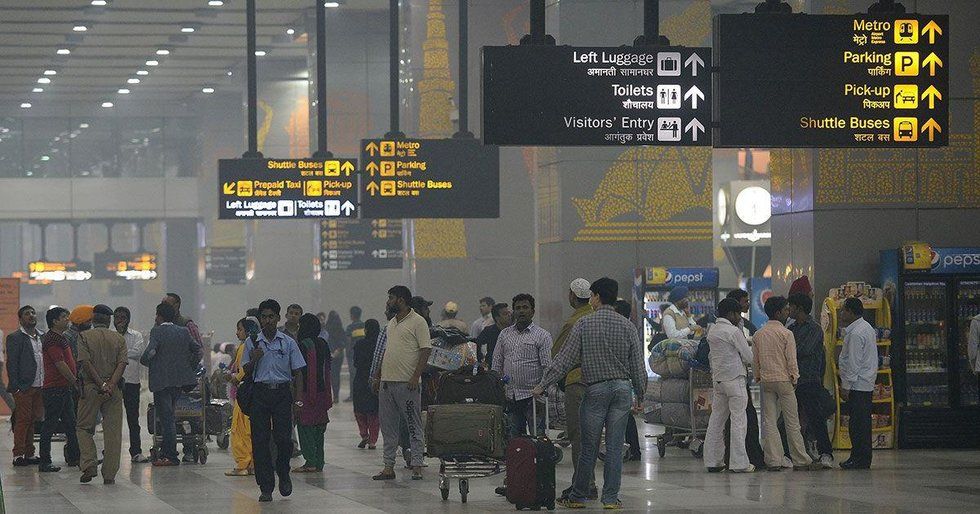 s02.sgp1.cdn.digitaloceanspaces.com
In a bid to make travelling to and from IGI airport easier for passengers, DIAL has undertaken a partnership with CarterX to start a service where a commuter's luggage can be transported to and from the IGI airport directly from their place of residence. This, essentially, is a step towards making checking in to the airport a breeze.

Additionally, if you're short on time and are planning to take the direct metro link to the airport, this is a great way to ensure that you don't have to lug your stuff around.
To avail the service, you will have to pay a fee based on the number, weight and size of the bags. The fee will also take into account distance to and from the airport, meaning the prices are going to be dynamically triggered. At any rate, the base fare is ₹299, which goes up depending on the aforementioned factors. For every 5 kilograms over 20kgs, an additional ₹100 will be charged.
Knock Knock
This is certainly one of the most passenger forward moves we have seen DIAL take. The IGI airport is at par with the best airports in the world and this is something that should take its rating all the way up. DIAL and CarterX have both stated that with this service, they aim to cover the entirety of Delhi, including neighbouring states- Haryana, Uttar Pradesh and Rajasthan.
For most of us from Noida, the Metro is nothing short of a lifeline. A saviour in times of need, the metro has connected various parts of Noida to mainstream Delhi. Now, however, you're going to have to take a different look at these metro trains, because you can rent them for throwing parties!
It's that time of the year again, when your Facebook will show you ads related to all things Valentine, there'll be a rise in pink-red teddy bears at the store windows and of course, the florists will be selling Roses at the price of Orchids. Valentine's Day is en route and if you too, are a part of Cupid's gang and love the day in all its glory, you must be scouting for things to do on this day with your beloved.
Food Festivals are often the best place to find a good time. The energy, the wafting aroma of food, the opportunity to eat, shop and be merry is something we look forward to dearly. of all the food festivals that happen in Delhi, Horn OK Please is the one tyeb city is undoubtedly the most excited for.
By now, if you still don't have a Valentine's Day plan, you've chanced upon the correct article!
If you're in Delhi and have been scouting to get your hands on the best deals for your beloved, that's where PVR Home is walking in on you. PVR Home is a unique offering from the stable of PVR Cinemas; explicitly designed to attract folks from various fields, all under the same roof! They've built a community of industry stalwarts, epicures and forward thinkers, who have further opened doors to intellectual rendezvous in an elite and premium set-up, which is nothing less than interesting.