This Valentine's Day, channel your inner romantic & head HERE for a date night in Delhi!
February 14, 2020
For all the folks who wanna have a low-key V-day, the Sunset Cinema Club has come up with a plan which would make your inner romantic happy af!
It's that time of the year again, when your Facebook will show you ads related to all things Valentine, there'll be a rise in pink-red teddy bears at the store windows and of course, the florists will be selling Roses at the price of Orchids. Valentine's Day is en route and if you too, are a part of Cupid's gang and love the day in all its glory, you must be scouting for things to do on this day with your beloved.
---
So if you're an ol' school soul just like your bae (or not) and wanna go beyond the generic rose-tinted V-day plans like the ones which the Gen Z advocates for, then Delhi has something for you. For all the folks who wanna have a low-key V-day, the Sunset Cinema Club has come up with a plan which would make your inner romantic happy af!
What's Happening?
On the 14th and the 15th of Feb, the Sunset Cinema Club has arranged for the screenings of two romantic classics- Dilwale Dulhania Le Jayenge for the Bollywood buffs and Titanic, for the Hollywood fanatics, respectively. These two movies will be the perfect excuse for you to step out with bae, if you've been meaning to have a quiet and cozy evening with no extra showshaa! The screenings start at 7 PM so make sure to arrive a little early, in order to snag the best seats here because the seating process is on a first-come first-serve basis.
There will be a variety of food and beverages available at the venue for your hunger pangs and nothing can truly beat the essence of a good film and food session along with bae, by the poolside.
Knock Knock
Now that the SCC has your back this V-day weekend, head over to catch any or both of these screenings and bask in the ol' school kinda love with bae by your side. Follow up this activity with a surprise dinner plan and we're sure, this evening is gonna be a hell of a mood maker!
Location: IBIS Aerocity, Delhi
Dates & Timing: 14th-15th February, 7 PM onwards
Have you ever been running late to the airport because of the sheer number of bags you have? If your answer is yes, then IGI airport has got you covered. Now, in a new initiative by the DIAL (Delhi International Airport Ltd) you can have your stuff transported to the IGI airport directly from your place of stay.
Delhi International Airport Ltd., the operators of IGI airport have partnered up with a Bengaluru based company called CarterX. In fact, this facility is not limited to be availed by only those taking off from Delhi, it can also be used to get your luggage delivered to your residence when you touchdown at IGI.
What's the update?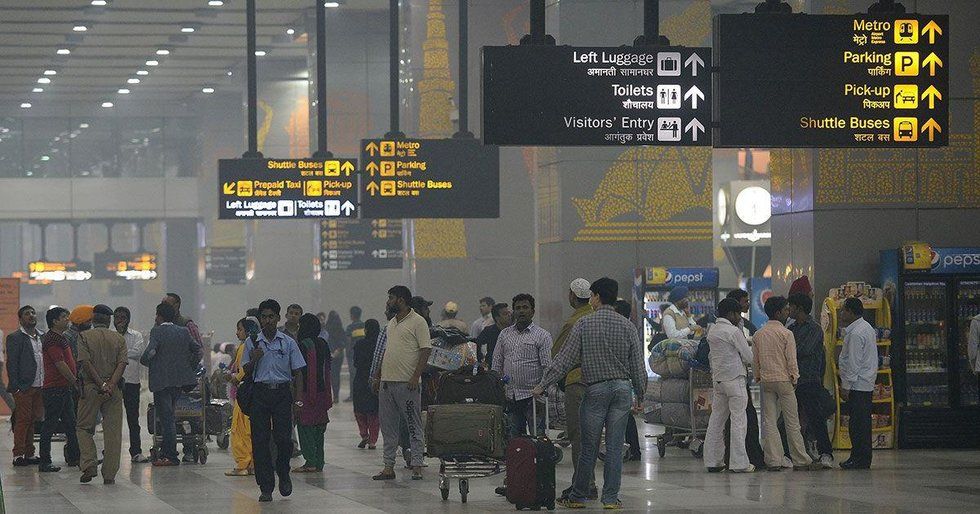 s02.sgp1.cdn.digitaloceanspaces.com
In a bid to make travelling to and from IGI airport easier for passengers, DIAL has undertaken a partnership with CarterX to start a service where a commuter's luggage can be transported to and from the IGI airport directly from their place of residence. This, essentially, is a step towards making checking in to the airport a breeze.

Additionally, if you're short on time and are planning to take the direct metro link to the airport, this is a great way to ensure that you don't have to lug your stuff around.
To avail the service, you will have to pay a fee based on the number, weight and size of the bags. The fee will also take into account distance to and from the airport, meaning the prices are going to be dynamically triggered. At any rate, the base fare is ₹299, which goes up depending on the aforementioned factors. For every 5 kilograms over 20kgs, an additional ₹100 will be charged.
Knock Knock
This is certainly one of the most passenger forward moves we have seen DIAL take. The IGI airport is at par with the best airports in the world and this is something that should take its rating all the way up. DIAL and CarterX have both stated that with this service, they aim to cover the entirety of Delhi, including neighbouring states- Haryana, Uttar Pradesh and Rajasthan.
Subscribe to our newsletter
For most of us from Noida, the Metro is nothing short of a lifeline. A saviour in times of need, the metro has connected various parts of Noida to mainstream Delhi. Now, however, you're going to have to take a different look at these metro trains, because you can rent them for throwing parties!
Food Festivals are often the best place to find a good time. The energy, the wafting aroma of food, the opportunity to eat, shop and be merry is something we look forward to dearly. of all the food festivals that happen in Delhi, Horn OK Please is the one tyeb city is undoubtedly the most excited for.
By now, if you still don't have a Valentine's Day plan, you've chanced upon the correct article!
If you're in Delhi and have been scouting to get your hands on the best deals for your beloved, that's where PVR Home is walking in on you. PVR Home is a unique offering from the stable of PVR Cinemas; explicitly designed to attract folks from various fields, all under the same roof! They've built a community of industry stalwarts, epicures and forward thinkers, who have further opened doors to intellectual rendezvous in an elite and premium set-up, which is nothing less than interesting.
"A dessert is like a feel-good song and the best ones make you dance." These words, said by the great chef Edward Lee holds true to the core and us dessertarians, couldn't agree more.
A good serving of dessert sets our mood like no other and there isn't a problem, which desserts cannot fix. Delhi clearly understands our emotions related to sugary delights and the city has given us ample of options to binge at, for an epic sugar rush.
Pet parents, if you've been wishing your doggos on Valentine's Day every year because you hail them as your one and only Valentine, then you're probably a part of our gang! The amount of love we have for our doggos cannot be comprehended by our mere mortal words and the love we receive in return, is irreplaceable and unconditional.