Delhi's odd-even scheme leads to a rise in daily Aqua Line footfall
November 05, 2019
With the new odd even rule that was put in place a few days back, Delhi has turned on its own head. People are making use of metros and public transport more than ever and owing to this, metro train frequency has also risen quite a bit. One metro route that has seen a massive spike in footfall is Noida Metro's Aqua Line, which was inaugurated earlier this year.
But, the Aqua Line metro is not the only metro line to register a rise in ridership, other metro lines in the NCR have also seen a significant change in ridership trends.
What's the update?
When the odd even rule came in place yesterday, almost 15 lakh private vehicles remained off the roads in Delhi. People around Delhi took to alternative means of transportation to aid their commute, the metro, along with DTC buses came as the saviour. Noida's Aqua Line metro especially saw an increased spike in footfall due to the same.
In many cases, metro stations had to be fitted with extra metal and bag scanners, just to accommodate the increased number of travellers. Chattarpur Metro station was one station where this problem was rampant. As far as Aqua Line metro is concerned, the footfall was quite high, however, such a problem was diverted.
As of now, NMRC (Noida Metro Rail Corporation) or the DMRC (Delhi Metro Rail Corporation) hasn't released the footfall figures, but they have stated that they were prepared for such a situation to arise. In line with that, the metro authorities have also increased the frequency of trains as well as the number of trips. Using 294 trains, the DMRC is running over 5,000 trips in a day. Additionally, they have also employed new staff for security and overseeing of operations.
Delhi metro veterans, who have been using the metro for a long time also reported never seen before chaos, especially at Blue line and Aqua line stations. These two routes comprise of the longest stretch of the metro and though the metro sees a respectable number of daily commuters, the odd-even rule has spurred a new record.
Knock Knock
Often, we take the metro in NCR for granted, but in times like these, we realise that the metro is actually a life saver. The odd even rule has had an interesting impact on how people in Delhi travel now. At any rate, the odd even scheme is here to last for two more weeks, so opt for the greener mode of transportation and brace yourself for the chaos!
Delhi's IGI airport is among the top airports in the world. With all the facilities of a world class international airport, IGI now has one more credit to its name. Recently the IGI airport became India's first airport to be free from single-use plastic.
Subscribe to our newsletter
Have you ever been running late to the airport because of the sheer number of bags you have? If your answer is yes, then IGI airport has got you covered. Now, in a new initiative by the DIAL (Delhi International Airport Ltd) you can have your stuff transported to the IGI airport directly from your place of stay.
Delhi International Airport Ltd., the operators of IGI airport have partnered up with a Bengaluru based company called CarterX. In fact, this facility is not limited to be availed by only those taking off from Delhi, it can also be used to get your luggage delivered to your residence when you touchdown at IGI.
What's the update?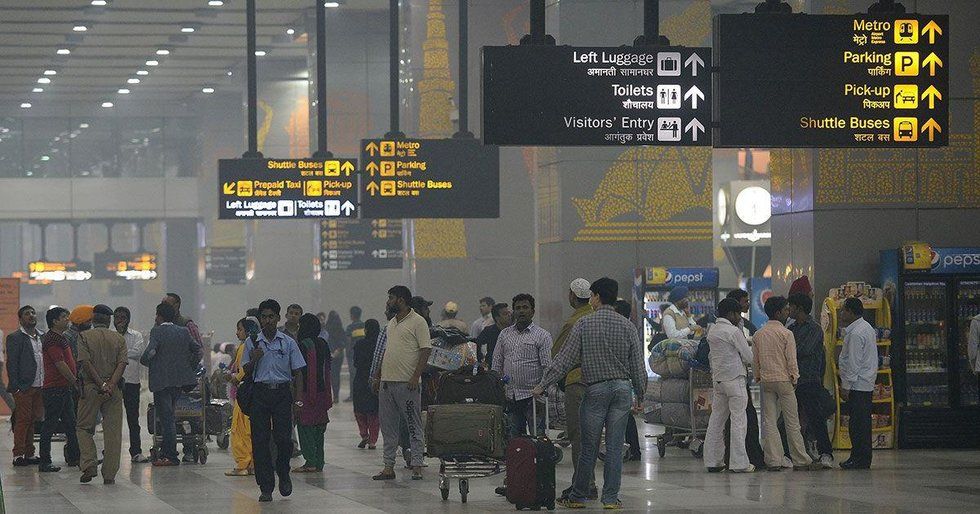 s02.sgp1.cdn.digitaloceanspaces.com
In a bid to make travelling to and from IGI airport easier for passengers, DIAL has undertaken a partnership with CarterX to start a service where a commuter's luggage can be transported to and from the IGI airport directly from their place of residence. This, essentially, is a step towards making checking in to the airport a breeze.

Additionally, if you're short on time and are planning to take the direct metro link to the airport, this is a great way to ensure that you don't have to lug your stuff around.
To avail the service, you will have to pay a fee based on the number, weight and size of the bags. The fee will also take into account distance to and from the airport, meaning the prices are going to be dynamically triggered. At any rate, the base fare is ₹299, which goes up depending on the aforementioned factors. For every 5 kilograms over 20kgs, an additional ₹100 will be charged.
Knock Knock
This is certainly one of the most passenger forward moves we have seen DIAL take. The IGI airport is at par with the best airports in the world and this is something that should take its rating all the way up. DIAL and CarterX have both stated that with this service, they aim to cover the entirety of Delhi, including neighbouring states- Haryana, Uttar Pradesh and Rajasthan.
For most of us from Noida, the Metro is nothing short of a lifeline. A saviour in times of need, the metro has connected various parts of Noida to mainstream Delhi. Now, however, you're going to have to take a different look at these metro trains, because you can rent them for throwing parties!
It's that time of the year again, when your Facebook will show you ads related to all things Valentine, there'll be a rise in pink-red teddy bears at the store windows and of course, the florists will be selling Roses at the price of Orchids. Valentine's Day is en route and if you too, are a part of Cupid's gang and love the day in all its glory, you must be scouting for things to do on this day with your beloved.
Food Festivals are often the best place to find a good time. The energy, the wafting aroma of food, the opportunity to eat, shop and be merry is something we look forward to dearly. of all the food festivals that happen in Delhi, Horn OK Please is the one tyeb city is undoubtedly the most excited for.
By now, if you still don't have a Valentine's Day plan, you've chanced upon the correct article!
If you're in Delhi and have been scouting to get your hands on the best deals for your beloved, that's where PVR Home is walking in on you. PVR Home is a unique offering from the stable of PVR Cinemas; explicitly designed to attract folks from various fields, all under the same roof! They've built a community of industry stalwarts, epicures and forward thinkers, who have further opened doors to intellectual rendezvous in an elite and premium set-up, which is nothing less than interesting.