Here's all you need to know about the Indore Bus Rapid Transit System
January 23, 2019
Indore is a massive city with lots to offer to the newcomers as well as to the well acquainted. It has everything from old heritage sights, mouth watering cuisines and sky high buildings, Indore is a city that caters to everyone. The city is massive in its size and you don't always want to commute in your personal vehicle, which is why you should use Indore's own Bus Rapid Transit System and here's all you need to know about it.
Indore Bus Rapid Transit System became operational back in May 2013 and since then, it has seen a reasonable amount of footfall. As of now, the Transit System has about 10 operational lines wherein it covers several important areas of the city. The route has a total length of approximately 12.4 kilometres and covers M.G Road, Eastern Ring Road, River Side Corridor, Indore Airport and several others. On the whole, the system has a route that would take you from any point in the city to your desired destination.
The buses are swank and low floored, much like the ones we have seen in Delhi and Noida. The fleet has 50 buses that are operational within the city. Additionally, the buses are air conditioned so travelling in the summers won't be an issue. If you thought that was all, get this. The entire 12.4 kilometer corridor is equipped with high speed free Wi-Fi provided by Free As Air and you're connected even on the go. The system is managed by high tech surveillance technology that also makes the buses very secure.
When fully completed with several corridors, the transit system will cover a total of 106 kilometres. The bus transit is, as of now seeing a daily footfall of almost 70,000 passengers, which is a major feat in itself. The rapid bus transit system is on the fast track to development and is paving the way to a much future proof Indore. The system is easy to navigate and is a boon for localities as well as the tourists in the city. Well, what are you waiting for, hop on on one of these buses and see Indore in a new light!
For most of us from Noida, the Metro is nothing short of a lifeline. A saviour in times of need, the metro has connected various parts of Noida to mainstream Delhi. Now, however, you're going to have to take a different look at these metro trains, because you can rent them for throwing parties!
Granted, that isn't really the first thought that comes to mind when one says either party or metro, but it is certainly something interesting. From now, one can book a metro coach on our favourite Aqua Line metro and celebrate any occasion. So read on to find out how it's going to go down and everything else you need to know.
What's the update?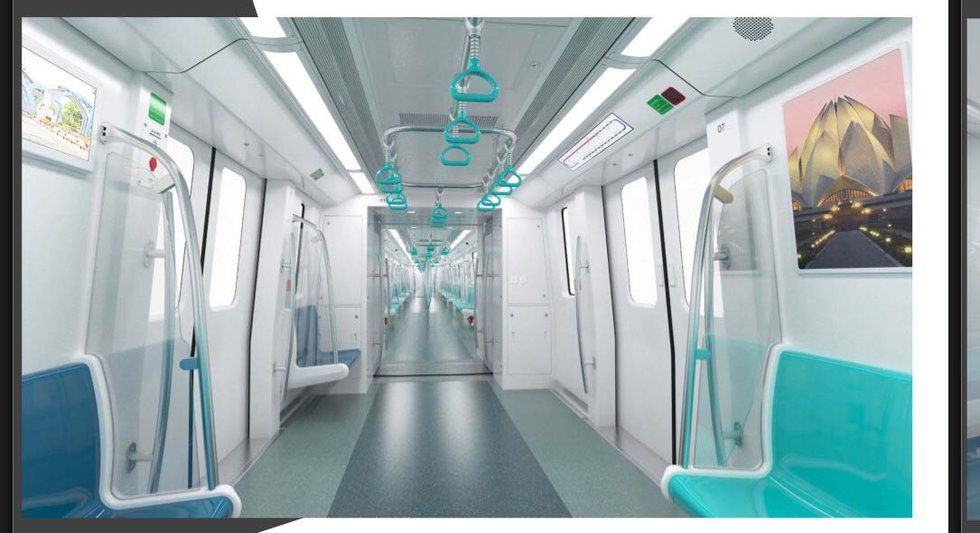 attachowk.com
Ever wanted to party in a Noida Metro Train coach? Well, it seems that now you can, with NMRC's latest initiative. The idea was taken from similar initiatives in Jaipur, Gujarat and Gurugram's Rapid Metro, where train coaches can be rented out for parties. Incidentally, no other foreign country implements this rule.

One can book coaches on operational as well as stationary trains. To ensure that the average commuter isn't held up, only up to 4 coaches can be booked by a party. For booking coaches, you're going to have to pay a security deposit of ₹20,000 and then ₹5,000 to ₹10,000 each hour. Paying extra will get you a decorated coach from the NMRC, so that you don't have to do anything.
In order to actually book a coach, or four, all you have to do is head over to the NMRC's website and apply at least 15 days prior to the date of engagement. Following that, the NMRC will look into the matter and you can get partying in your metro coach within no time!
Knock Knock
The NMRC is constantly coming up with innovative ways to generate revenue from Noida Metro. Earlier, the metro stations opened up for film and television shooting. In the near future, we expect the revenue to help improve and expand Noida Metro.
Subscribe to our newsletter
Delhi elections are just around the corner. While the tensions are high in the national capital, with numerous campaigns and rallies asking people to cast their precious vote, there are a few who still need to make travel plans in order to cast their vote. To ensure that every last voter gets to practice their democratic right and no vote is lost, SpiceJet is offering free tickets to those who're registered as voters in the Delhi.
In just a matter of three years, Mumbaikars will be able to take a 12-hour drive to get all the way down to Delhi, and vice versa. The 8 lane highway that is the NHAI's (National Highways Authority of India) pet project has just been put on the fast track to completion by January 28, 2023. Authorities have stated that there will be no flexibility in this date.
We all know Mother Dairy as the standard milk and milk products seller. Every locality in Noida has its very own Mother Dairy and it is how we guide the Zomato delivery executives to our homes- "Bhaiya Sector 18 ki Mother Dairy ke paas aana hai apko". We have had the opportunity to visit the Mother Dairy ice-cream parlours too, but this new branch of Mother Dairy is completely new to us!
Delhi's Mughal Gardens, which open for a couple of weeks annually, are now again gearing up for their public opening this year. Locals and tourists alike, wait an entire year just to take in the mesmerising beauty of these gardens. The garden is expected to be open from February 05 to March 08, 2020.