In a conversation with the founders of Gurugram-based Rumi Food Company!
October 19, 2018
Ayan and Adnan, brothers and entrepreneurs, are the founders of the traditional Indian restaurant 'Rumi Food Company'. While Ayan handles business and is essentially the brain behind Rumi Food Company, Adnan is the heart. Adnan is not only a trained and experienced chef, but also a food enthusiast and a flag-bearer of the traditional cooking styles and methods.
Rumi Food Company, through its name and work wants to spread the message of love in the world, like the great Persian poet 'Rumi', through food instead of words.
In a conversation with Knocksense, the brothers talked about their love for food and the significance of the dish 'Haleem'
What is Haleem?
Haleem is one of the most popular meat dishes in the world, originally from middle east, it is a slow cooked stew made of lentils and meat.
Much like the ingredients of the dish, their are several variants and adaptations of the dish itself; in America it is called Farina, in Turkey Kashka, in Arab countries Harees or Jareesh, whereas in certain parts of India it is also known as Daleem or Khichda.
Where did the dish originate?
Kitb-e-tahree the oldest known Arabic recipe book defines Haleem as a dish originally made of lentils and meat, meant for kings and khalifas of Bhagdad, later adopted by the Arabs who called it Harees or Jareesh.
The dish came into existence because of a lack of resources and the need for a filling meal that would provide strength to soldiers during the many wars the Arabic army waged. In their need to find something easy to cook, which did not require a lot of water, the Arabic soldiers moved away from dal or curry and resorted to a simple meal cooked in a single pot for hours; and that is how the dish came to be.
How did Haleem come to India?
It is believed that an Arab soldier, who became a part of the Nizam of Hyderabad's army introduced Haleem to the Nizam, who loved the dish and its sheer simplicity. So they started making Haleem in Hyderabad, where the Arab soldier called it Jareesh, while people of Hyderabad modified its name to suit their own ways and called it Haleem or Daleem (since Haleem is an auspicious term, some of the followers were reluctant to say it, out of respect, hence they started calling the dish Daleem).
How is Haleem made?
Much like the Spanish 'Paella', there is no exact recipe for the dish, it varies from region to region; the process of cooking and preparation however, remains similar. Haleem is made by pounding meat and lentils for hours so that it gets difficult to differentiate the two. The meat used should be boneless, de-boned or pulled, it should be mutton, beef or any other strong animal meat (since chicken is not considered a good substitute).
Haleem is a pate or a dense paste, hence it cannot be consumed on its own, it generally needs to be accompanied with bread and/or 'Paya' soup to make it easy to swallow.
What is the significance of Haleem?
Haleem is a culturally significant dish because of its history and because it denotes simplicity and hardship, hence holds a great message and meaning behind it and is often cooked during the month of Ramadan and during Moharram
Talking about food in general, the brothers believe that every dish has a story behind it and it is extremely important to talk about these stories, for food, much like love, is a universal language.
If you want your business/success story to be featured on Knocksense, write to us at info@knocksense.com.
With a kick-ass vision to conduct a face-lift on Lucknow's music scene and nightlife, Astral Sounds had conducted a Sundowner Fest last year, which kept Lucknowites yenning for more such nights.
Subscribe to our newsletter
Have you ever been running late to the airport because of the sheer number of bags you have? If your answer is yes, then IGI airport has got you covered. Now, in a new initiative by the DIAL (Delhi International Airport Ltd) you can have your stuff transported to the IGI airport directly from your place of stay.
Delhi International Airport Ltd., the operators of IGI airport have partnered up with a Bengaluru based company called CarterX. In fact, this facility is not limited to be availed by only those taking off from Delhi, it can also be used to get your luggage delivered to your residence when you touchdown at IGI.
What's the update?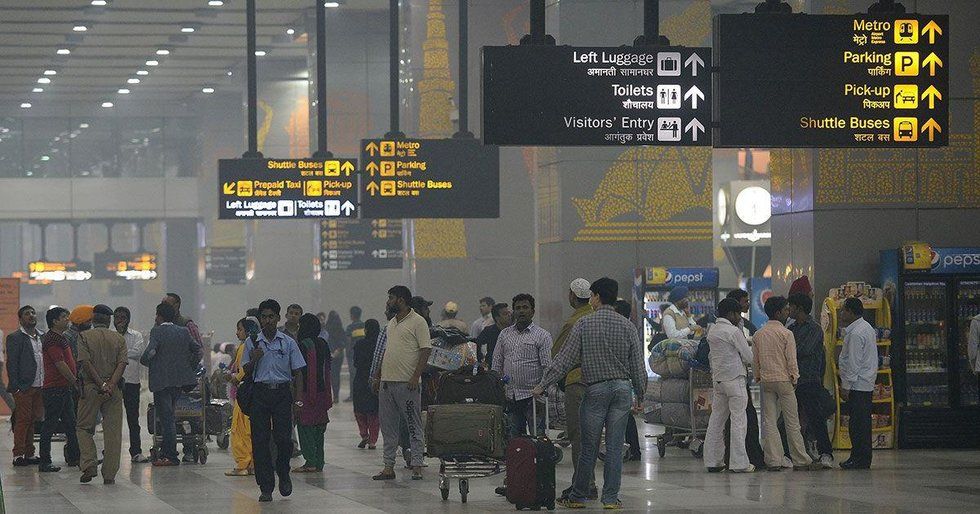 s02.sgp1.cdn.digitaloceanspaces.com
In a bid to make travelling to and from IGI airport easier for passengers, DIAL has undertaken a partnership with CarterX to start a service where a commuter's luggage can be transported to and from the IGI airport directly from their place of residence. This, essentially, is a step towards making checking in to the airport a breeze.

Additionally, if you're short on time and are planning to take the direct metro link to the airport, this is a great way to ensure that you don't have to lug your stuff around.
To avail the service, you will have to pay a fee based on the number, weight and size of the bags. The fee will also take into account distance to and from the airport, meaning the prices are going to be dynamically triggered. At any rate, the base fare is ₹299, which goes up depending on the aforementioned factors. For every 5 kilograms over 20kgs, an additional ₹100 will be charged.
Knock Knock
This is certainly one of the most passenger forward moves we have seen DIAL take. The IGI airport is at par with the best airports in the world and this is something that should take its rating all the way up. DIAL and CarterX have both stated that with this service, they aim to cover the entirety of Delhi, including neighbouring states- Haryana, Uttar Pradesh and Rajasthan.
For most of us from Noida, the Metro is nothing short of a lifeline. A saviour in times of need, the metro has connected various parts of Noida to mainstream Delhi. Now, however, you're going to have to take a different look at these metro trains, because you can rent them for throwing parties!
It's that time of the year again, when your Facebook will show you ads related to all things Valentine, there'll be a rise in pink-red teddy bears at the store windows and of course, the florists will be selling Roses at the price of Orchids. Valentine's Day is en route and if you too, are a part of Cupid's gang and love the day in all its glory, you must be scouting for things to do on this day with your beloved.
Food Festivals are often the best place to find a good time. The energy, the wafting aroma of food, the opportunity to eat, shop and be merry is something we look forward to dearly. of all the food festivals that happen in Delhi, Horn OK Please is the one tyeb city is undoubtedly the most excited for.
By now, if you still don't have a Valentine's Day plan, you've chanced upon the correct article!
If you're in Delhi and have been scouting to get your hands on the best deals for your beloved, that's where PVR Home is walking in on you. PVR Home is a unique offering from the stable of PVR Cinemas; explicitly designed to attract folks from various fields, all under the same roof! They've built a community of industry stalwarts, epicures and forward thinkers, who have further opened doors to intellectual rendezvous in an elite and premium set-up, which is nothing less than interesting.