The festival of Holi is en route and with a plethora of events to attend here in Indore, we'll surely be keeping busy. But by mid-week, the festivities are bound to retreat leaving us high and dry and that's exactly where Kyro is walking in to save the day! This upcoming Friday, the cool kids of the town will be frolicking here for a Rang Panchami pool party and we've got the deets covered.
Of the multitude of festivals that our diverse country has, Holi is perhaps the one most associated with fun, enthusiasm and zeal. While the essence of the festival remains the same throughout the country, Holi is celebrated in many ways.
In Indore, you can catch one of the best celebrations of the festival right here at the Holi Nation fest, which promises to take your excitement and fun to the next level. Indore is painted colourful during Holi, which makes it a sight to behold and trust us, you want to be at Holi Nation when the colours splash.
What's happening?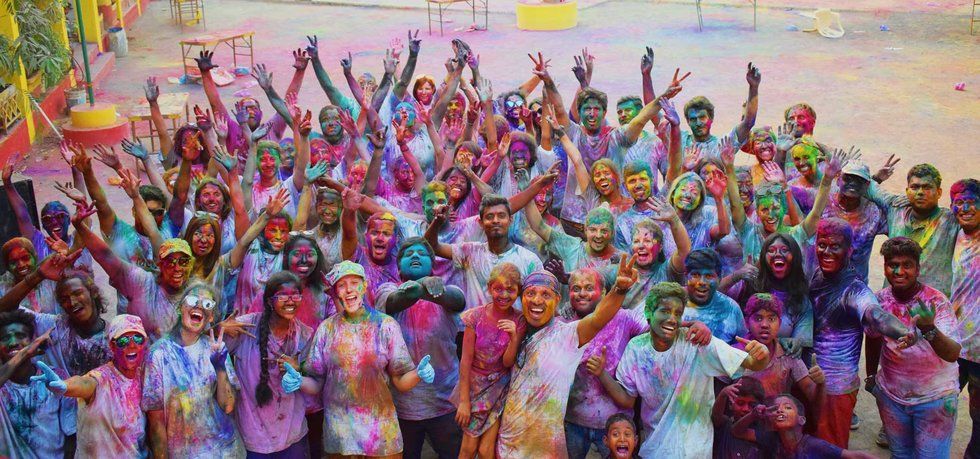 realitytoursandtravel.com
The Holi Nation fest is coming to town to spruce up your celebrations like never before. Offering you a slew of performing artists, organic colours, food stations, photo booths and a lot more, these guys know how to get us riled up for our favourite festival of the year.
Apart from that, the live music sets and performing arts will also be accompanied by a rain dance floor, which will surely add a dash of spice to your celebrations. Gracing the DJ stage will be some international as well as local performers. The most dazzling of these are bound to be Olly Esse from Italy and sEEK, another international sensation. Apart from that, the event will also showcase The Rapping Machine, Piyush and more.
Keeping the fest in line with tradition, there will also be live dholak performances so that you can get your bhangra skills out on the dance floor.
Knock Knock
With Holi Nation's mega celebration of the festival of colours, be assured to have an amazing time, so book your tickets right away.
When: March 10, 2020
Where: Sayaji Hotel, Indore
Book your tickets here.
Often, cultural festivals are the best way to get in touch with a city- it's present as well as its past. In a small city near Indore, Orchha, you can catch a whole new side of not just the city, but all of Madhya Pradesh. The Orchha Festival is set to take place in March this year and all you Indoris have to plan a trip here.
Subscribe to our newsletter
Following the release of the movie Gully Boy, the rap scene in India seems to have resurfaced back to life. Chances are, you've developed a liking for such music and if you're in Indore, you're in for some luck. This valentine's day, you folks can be part of Indore's Biggest Rap Festival which is bringing some of the best in the Rap game right here to the city.
Over the past few years, the Indian comedy scene has been expanding quite rapidly. We're happy that this is the case because the number of amazing comics that have come out of this field are mind-boggling. One of them happens to be Manik Mahna and he's winning hearts all over India.
With each passing day, Indore is increasingly becoming more hep and happening; something or the other is sure to catch our fancy and keep us occupied. Be it a music carnival, food fest or a comedy show, Indore presents to us ample of options to take a pick from! These events have been keeping us sane amidst the hectic hustle and if you too, feel like indulging in laughter therapy, we've got something for you.
The spirit of adventure lies within each of us somewhere deep down. Giving you unparalleled thrills, experiences and stories to tell, an adventure is more than just a journey. If you're looking for something exciting to do in Indore, then you should head over to Somanipuram Adventure Park.