Diminished percentage suggests no community transmission in Indore
The results of Indore's Sero-survey that sampled about 7,103 peoples from August 11 to August 23 exhibit that only 548 people, accounting to a very low percentage of 7.75 have SARS-COV2 antibodies. According to the reports, 170 health workers in 85 teams were deployed to collect these samples from each city ward. Though these low numbers suggest that there is no community transmission in the city, health officials fear that over 92% of Indore's population is susceptible to the coronavirus infection.
---
Indore Sero-survey Results
Contributing over 1/5th to the total state tally of 60,875, Indore has been identified as the worst-hit district of Madhya Pradesh. The city also has a mortality rate significantly higher than the National average with its 384 virus-related fatalities. Even with these high statistics, only 7.75 per cent of the city has developed antibodies against the virus. The lower percentage indicates that Indore has not developed herd immunity against the virus and the majority of the city population are vulnerable to the attack of the virus. At the same time, it shows that the containment strategy of the city administrative yielded results and techniques of isolation, identification, testing and tracing arrested the rapid spread of the coronavirus.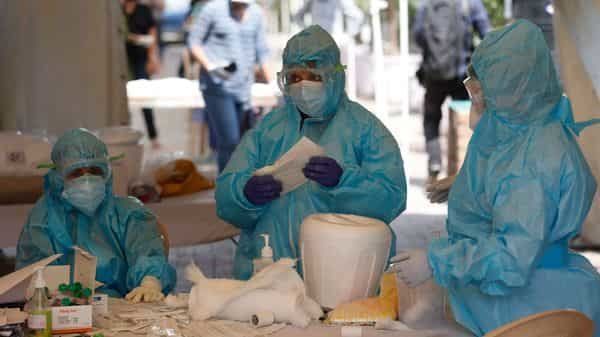 images.livemint.com
The survey was conducted under the supervision of the National Centre for Disease Control and it sampled 33% of both men and women adults. The remainder sample accounted for the city minors. The survey reports and figures show that antibody prevalence was equal in both men and women-7.9% and 7.5% respectively.

Another peculiar finding of this survey, suggested increased immunity and antibody presence in higher age groups which are the most vulnerable to the virus and its symptoms. The highest figure of 10.4% was found in the individuals falling in the age bracket of 45 to 60. This was followed by 8.4% of those closer to 60 years. Minors were found with a stilted 7.2% immunity.
The trends of the survey were found to vary from one ward to the other, showing a well-arrested and contained spread of the virus among localities. While the wards with the highest transmission like the Bambai Bazaar ward, Somnath, Haji Colony, Jawahar Marg and Ranipura were found to have the most seroprevalence, it also advocated the need to have a detailed ward wise assessment as the case fatality numbers indicate the virus was prevalent in the city.

Contributed by Sanjay Thakur