So if you are thinking of binging on good food while at the city's heart, then we have your back.
Amidst a string of architectural wonders and a quintessential cultural heritage, what truly constitutes the highlight of the City of Nawabs, is its cuisine. A walk through affluence and royalty, the superlative flavours presented by Lucknow attract the finest of all foodies from around the world! So if you are thinking of binging on good food while at the city's heart, you can check out these 11 iconic eateries in Hazratganj.

---
Royal Cafe
With an array of chaats, North Indian and Mughlai food, Royal Cafe assures a rich gastronomical experience. What truly stands out at this place, is its amazing serving of Basket Chaat. Fusing the best of sweet and savoury, this delicacy is a true delight not only for your tongue but also for your eyes! An outing at Hazratganj would be incomplete sans a visit to this irresistible place.
Rovers
Bringing to you the exceptional assortment of vegetarian and non-vegetarian food, is this joint called Rovers. A childhood favourite for many Lucknowites, this place serves emotions on a platter. From paneer and mutton frankies to a range of Chinese dishes, Rovers offers drool-worthy choices. So be it any occasion, Rovers is surely going to heed to your hankerings!
Indian Coffee House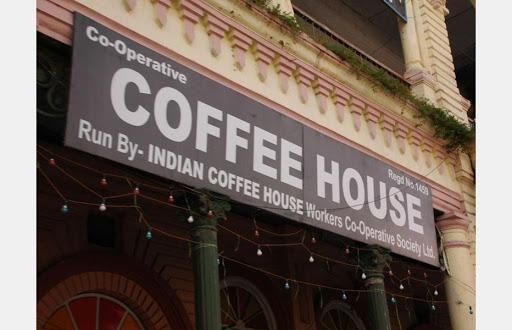 Up for an intellectual discussion with a bunch of mates? Dreaming of a soothing evening all by yourself? Then head to the Co-operative Indian Coffee House right away. With its inception in 1938, this coffee house has evolved through time, becoming the heritage hang-out place for Lucknowites. The coffee house takes pride in hosting a number of freedom fighters and politicians and it surely calls for your attention!
Chedilal Shakes
Do delish shakes entice you? Then this is your spot! Beautifully engrained in the summertime memories of Lucknowites, Chedilal offers a lip-smacking spread of shakes. With low prices and quick serving, the 'King of Shakes' is sure to become your favourite at the first visit itself! If you happen to drop by here, you must try their Badaam Shake for an unforgettable experience.
Chaudhary's
When in Ganj, you've gotta come over to Chaudhary's to try out their thick and creamy Kaju Shake! This quaint little shop has been serving us since 1960 and is seen absolutely packed with locals and tourists alike, especially during the summer season. They also have other beverage options to soothe your palate and the economical pricing of it all, just makes it a mass favourite.
Chanakya Laddoo
Unable to satiate your sweet tooth cravings? Don't worry, Chanakya Laddoo is here to rescue you! Offering an exquisite diversity, this dessert dukaan tops the list of sweet shops in Lucknow. Rated high on food quality, service, and experience, the shop brings to its customers, a decadent medley of Laddoos, Barfis and other treats. Further, preserving the rich flavours of cardamom and saffron, this joint also guarantees unparalleled kulfis during summers.
Jone Hing
Looking for yummy Chinese food in Lucknow? Then halt your search right now! With Mutton Chilly, Chicken Chilly, and Paneer Chilly constituting the highlights of this joint, Jone Hing brings the piquant flavours from China, straight to the heart of Lucknow. It is actually difficult to find a spot like Jone Hing, which is economical and tasty, all at the same time!
Marksmen
Known amongst Lucknowites for its Chinese and south Indian grubs, Marksmen is an unavoidable food joint in Hazratganj. Serving the crispiest of dosas and the crunchiest of vadas, this joint has made it to the hearts of Lucknowites with its scrumptious flavours. Though the south Indian food found here is unmatched, their Chinese fare too, is simply drool-worthy!
Moti Mahal
Claimed as the "most reasonable place to satisfy one's hunger", a meal at Moti Mahal will definitely supersede your expectations. From finger-licking chaats to sumptuous main courses and splendid desserts, you can surely have a binge-munching experience here. For all the connoisseurs of vegetarian food, this joint is a must-visit spot!
King of Chaat
King of Chaat here in Ganj, offers the most appreciated varieties of chaat and it sees hordes of youngsters frolicking here, all day long! Frequented mostly by gol gappe lovers, this joint is a treasured choice for people across ages. It is loved by locals to such an extent, that one can never enjoy a meal here without paying the price of waiting in a queue! Also, you can check out Shukla Chaat House, when in this locale because they've been whipping up chaats which are unparalleled and will have you drooling by the mere aroma of it!
Dastarkhwan
Authenticity or taste, nothing beats Dastarkhwan when it comes to non-vegetarian delicacies. Laying out an appetizing spread of the best Mughlai food, it has been winning hearts of all of its customers, since ages. From varieties of Chicken and Mutton to kebabs, ranging from Galauti to Seekh and Kakori, Dartarkhwan serves a grand palette of royal Awadhi flavours. Don't forget to try their biryani if you hit this spot!
Knock Knock

While these eateries promise you the ultimate gastronomical experiences, your time here would definitely leave you craving for more of the Nawabi flavours. So work up a huge appetite and figure what your heart wants, savoury or sweet and then just head to Ganj for a plethora of grub options.