Pick a Dark or Medium roast of Arabica, here at the all new Easy Cappuccino, Bandra!
October 03, 2019
Mumbai has been known as the 'city which never sleeps' and being a deep-dyed Mumbaikar, we'd like to credit this tag to our coffee craze!
---
Just like the lawyers of Pearson Spector Litt who have their own favourite coffee carts, we too fall in the category where our coffee is solely about our own taste. Sometimes we don't want to be immersed in a cafe-like ambience. We're mostly happy with our cup of joe on the go from a no-frills coffee corner because on your way to office or uni, you'd like your start to the morning to be personal.
So keeping the no-nonsense coffee connoisseurs in mind, a few good folks have introduced Easy Cappuccino here at Pali Hill, Bandra where you can get your daily caffeine fix at crazy price-points.
What's Brewing?
Here at Easy Cappuccino, it's all about your individual experience focused on coffee alone. It's a minimalistic QSR where you can connect to their free WiFi, sit with your laptop and sip on your brew without any 'squad of friends' disturbing your work. This simple coffee-room is dedicated to people who need coffee and some peace to function.
The Caffeine Fix!
On their menu, they have 3 sorts of blends- Dark, Medium and Arabica and you can even choose the kind of milk you want along with it. If you don't really care about calories, go for the full-fat variant but if you're conscious about a few extra inches, soy and almond should be your pick. They even have the Arabica deviant of coffee here and at a minimal cost, you can switch to it too.
You can also get your coffee membership-
Since drinking coffee is a daily affair which we ain't giving up anytime soon, Easy Cappuccino will be introducing a coffee membership for us! Yaassss! You just gotta pay up 8k for a year and you can enjoy a free cup of java regularly!
For the Palate-
So after you pick up your blend, you get to walk right out like Louis Litt and while here, you can also pick up a few tucks from their concentrated food menu- your breakfast will be sorted too.
Go for their savoury croissants like the Cheesy Garlic variant or pick the Jalapeno and Cheese option because you might need something to cut through the sweetness of the coffee.
BTW they've got pizzas too!
Yaaasss folks! Easy Cappucino has also recently updated its menu with 5 variants of hand-tossed thin-crust pizzas so if you feel like starting your day with a pizza, go ahead and spoil yourself!
If you're feeling like indulging in a hearty breakfast session, go for the Double Cheese Margherita or the Basil & Mushroom and you'll definitely be skipping lunch! If you want a lil' spice to neutralize your sweet coffee blend, Peri Peri Paneer will give you the much-needed kick to your tastebuds.
Try the amazing Granola Parfait
They even have Granola Parfait on their dessert menu which is available in two flavours- Mango and Blueberry. It is served in an ol' fashioned glass with a base of chia seeds soaked in milk and then it's topped with layers of granola, fruit pulp and whipped cream! So if you're not a coffee person and still wanna check this place out, come over for the sake of this perfect Parfait and of course for the pizzas available here.
Knock Knock-
Here at Easy Cappuccino, your daily dose of caffeine will be taken care of at nominal prices, unlike at the other big brands where coffee is mostly limited to being an Instagram accessory! So if you're looking to pick up a cup of 'apology' coffee for a friend or a sweet blend for bae, you can count on 'em for your caffeine needs.
Location: Shop 6, Shiv Asthan CHSL, 16th TPS Road, Pali Hill, Bandra West
Timings: 7am – 11pm
Cost: ₹300 for two people (approx.)
Also Read: 5 Coffee Places in Mumbai which will serve your brew just the way you love it!
The local train network in Mumbai is like the lifeline of the city. The entire city will come to a standstill if the local trains do not function properly and that is a testament of how important the Mumbai locals are for the everyday daily. The newest addition to this humongous network is the AC local. And now the first fully air conditioned suburban train in the country, the Mumbai AC local will soon have a new feature to boast of.
Western Railway is gearing up to start a 'Content on Demand' service in the new Mumbai AC Local, a broad gauge train which was launched a few days back between Panvel and Thane.
What's the update?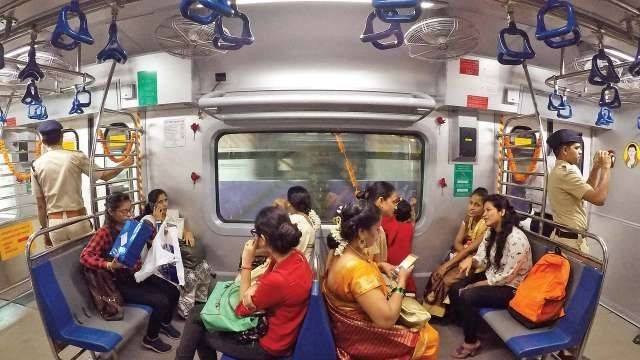 i.pinimg.com
The newest marvel of Western Railway, the Mumbai AC Local will soon have a 'Content on Demand' service. This initiative aims to change the way people view local trains as well as introduce the quotient of luxury and comfort in the trains. This would include a high-quality, buffer free streaming of new and popular TV shows as well as movies.

The content on demand services will be rolled out for two Rajdhani trains and the AC local of Western Railways (WR), according to a report by The Hindu. The service is expected to begin in the next two years and stream content including educational programmes, television shows and movies.
The service will be available in both paid and unpaid formats on a mobile app which can be downloaded by the passengers and used as a window. Passengers will be able to log in to the app, stream the content and enjoy the service.
This project will initially be piloted in the select few trains and will then launch for the more premier trains of the of Indian Railway.
Knock Knock
The new content on demand service is another facility meant to lure passengers towards the more luxurious trains. Travelling via the Indian railway today is no less sophisticated than through flights and that is exactly what the railway is aiming towards.
Subscribe to our newsletter
Given our monotonous routines, the bored part of us is always scouting for things to explore, places to be at and such expeditions never seem to end. Honestly, how would it?! Mumbai has no dearth of events and with a plethora of things to do here, there's always a constant FOMO hacking our minds.
Mumbai has a lot of tourist destinations which are frequented by people from around the world. For outsiders, these gems give a snippet of Mumbai's past. While for the locals they are a symbol of pride, a testament to how the city came to be what it is today. However, many of these tourist spots are often left unattended, in a dilapidated state and lose their former glory.
The Mumbai Metro One will now ensure that students who have a board examination to attend will not have to stand in queues to get tickets for the metro. This is another one of those highly commuter friendly decisions that will bring about a much needed change. Here's what you students need to know about it.