The Rajabai Tower is embellished with beautiful oriental figures.

If we had to scout around for Harry Potter's shooting locations in Mumbai, then the University of Mumbai Fort Campus would be our choice for all the scenes taking place at Hogwarts. What especially makes this spot worth a visit, is the resemblance shared by the various towers of Hogwarts with the 196 ft tall Rajabai Tower, seated on its premises.
Offering a 360-degree view of its surroundings, the stylistic architecture of this nineteenth-century clock tower was designed by Sir Gilbert Scott at an estimated cost of ₹2 lakh, which was indeed a huge amount in those days. So let's explore the history of this iconic colonial structure that was the tallest building of its time!
---
Inspired by London's Big Ben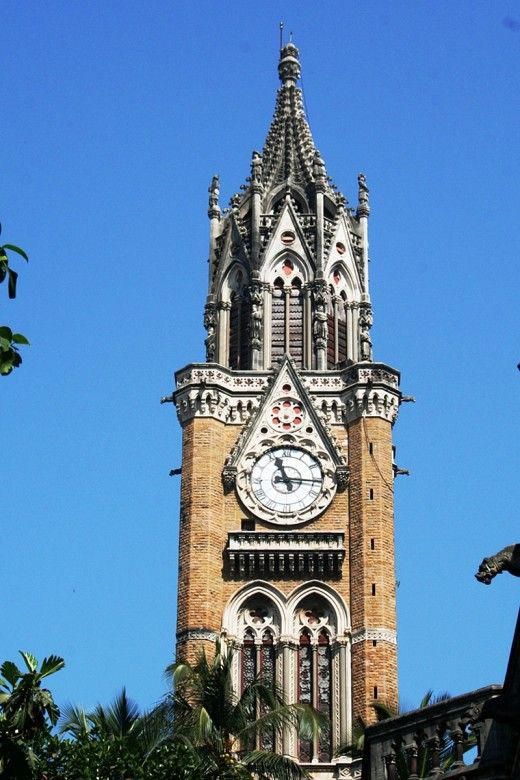 A beacon of architectural heritage whose foundation was laid in the late nineteenth century, the Rajabai Tower is embellished with beautiful oriental figures and its design is inspired by London's Big Ben. A remarkable fusion of Victorian and Gothic architecture styles, this clock tower is named after a women's right to education activist, Rajabai.

The four-sided clock embedded in this structure was designed by watchmaking company- Lund & Blockley. During the colonial era, sixteen tunes were played here, including 'Rule Britannia', 'God Save the King' and 'Home! Sweet Home!'. Further, in those times, the tunes were changed four times a day but now, only a single tune can be heard, once in every fifteen minutes.
Knock Knock
The elegance and artistic finesse of Rajabai Tower is the city's pride and this towering structure simply adds to the charms of Mumbai's expansive skyline. All those who wanted to visit London to witness Big Ben, can explore this clock tower for now, until the pandemic is erased entirely!
Location: University of Mumbai Fort Campus