New Delhi Metro station adds three more airlines to its check-in facilities
November 21, 2019
Travelling via the Delhi airport is a challenge we all have to face. Once you cross the check-in counters everything is smooth sailing, but reaching the airport on time and standing in long queues for the check-in is a real struggle. The unforgiving Delhi traffic is always ready to make us late, no matter how soon we try to reach the airport.
To make life easier for people who travel via the Terminal 3 of Indira Gandhi International Airport, New Delhi metro station has added 3 more airlines to its 'check-in' service.
What's the update?
To make the check-in process simpler and less complicated for passengers who are travelling via the T3 terminal of Delhi airport, New Delhi Metro station has started a check-in service for three more airlines. These three airlines are the newest addition to the existing check-in services which were previously available for Vistara and Air India.
The check-in service is available for passengers travelling on the domestic and international flights that leave from terminal T3 of IGI airport. According to a statement by Delhi International Airport Limited (DIAL), the services will only be available for GoAir's international flights.
How will it help?
With the new service passengers will be able to do a metro check-in for their flights two to 12 hours prior to their flight time. It is also noteworthy that people who reach the check-in counter less than 2 hours before their scheduled flight time, would not be able to check-in at the metro station.
Passengers will be able to collect their boarding passes from the check-in counters set-up near the entrance of New Delhi Metro station.
Knock Knock
The new check-in service available at the metro stations will not only help people cut the usual queues at the airport but will also prove to be exceptionally helpful for those who choose to travel via the metro express line. So if you have a flight leaving from terminal T3 of GoAir, SpiceJet, AirAsia, Vistara or Air India, you can check-in early at the New Delhi Metro station.
When in Delhi, getting bored or being out of things to do isn't an option for us. This city hosts something or the other on a routine basis and sitting our tashreefs down isn't something we Delhites like doing! So to keep us on our toes and to put a smile on our faces, Delhi is bringing in Vir Das and his band, Alien Chutney this March.
Subscribe to our newsletter
Often, when dropping someone off at the train station, getting on to the platform for a non passenger can be quite a chore. One has to go out of their way, even stand in long queues just to buy a platform ticket, which is not only time consuming but quite irksome. However, if you're looking to skip the queues and save some money, then here's something for you.
Have you ever been running late to the airport because of the sheer number of bags you have? If your answer is yes, then IGI airport has got you covered. Now, in a new initiative by the DIAL (Delhi International Airport Ltd) you can have your stuff transported to the IGI airport directly from your place of stay.
Delhi International Airport Ltd., the operators of IGI airport have partnered up with a Bengaluru based company called CarterX. In fact, this facility is not limited to be availed by only those taking off from Delhi, it can also be used to get your luggage delivered to your residence when you touchdown at IGI.
What's the update?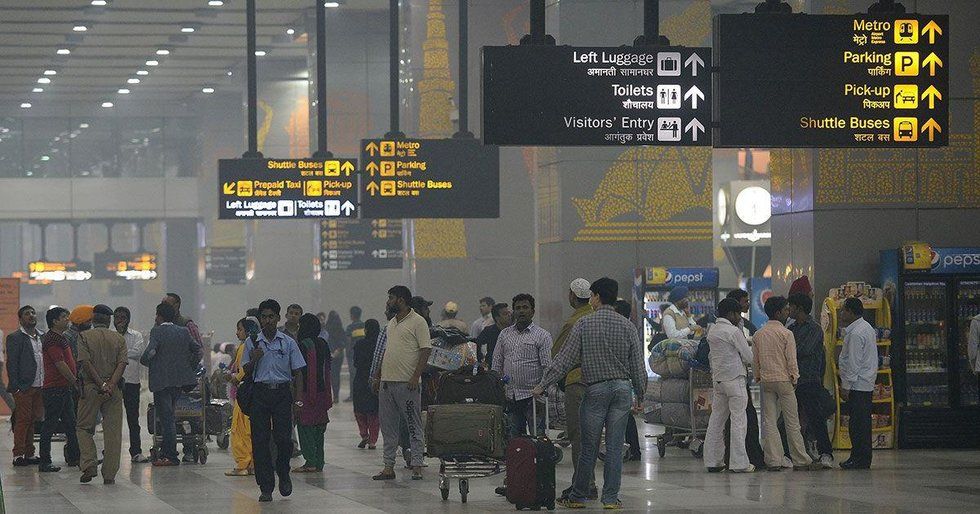 s02.sgp1.cdn.digitaloceanspaces.com
In a bid to make travelling to and from IGI airport easier for passengers, DIAL has undertaken a partnership with CarterX to start a service where a commuter's luggage can be transported to and from the IGI airport directly from their place of residence. This, essentially, is a step towards making checking in to the airport a breeze.

Additionally, if you're short on time and are planning to take the direct metro link to the airport, this is a great way to ensure that you don't have to lug your stuff around.
To avail the service, you will have to pay a fee based on the number, weight and size of the bags. The fee will also take into account distance to and from the airport, meaning the prices are going to be dynamically triggered. At any rate, the base fare is ₹299, which goes up depending on the aforementioned factors. For every 5 kilograms over 20kgs, an additional ₹100 will be charged.
Knock Knock
This is certainly one of the most passenger forward moves we have seen DIAL take. The IGI airport is at par with the best airports in the world and this is something that should take its rating all the way up. DIAL and CarterX have both stated that with this service, they aim to cover the entirety of Delhi, including neighbouring states- Haryana, Uttar Pradesh and Rajasthan.
For most of us from Noida, the Metro is nothing short of a lifeline. A saviour in times of need, the metro has connected various parts of Noida to mainstream Delhi. Now, however, you're going to have to take a different look at these metro trains, because you can rent them for throwing parties!
It's that time of the year again, when your Facebook will show you ads related to all things Valentine, there'll be a rise in pink-red teddy bears at the store windows and of course, the florists will be selling Roses at the price of Orchids. Valentine's Day is en route and if you too, are a part of Cupid's gang and love the day in all its glory, you must be scouting for things to do on this day with your beloved.