Moving ahead towards the launch of Metro Line 3, the Mumbai Metro Rail Corporation (MMRC) has been successful in recording its 38th breakthrough on Monday. As per reports, the Tunnel Boring Machine (TBM) Surya-1, finished its last upline schedule from Hutatma Chowk to CSMT Metro Station, in South Mumbai. It has been reported that package-1 has registered cent percent underground drilling with the completion of the long tunnel from Cuffe Parade to CSMT Metro Station.
100% tunnelling complete along the entire stretch of 5.8 km
MMRC achieved its 38th breakthrough as TBM Surya-1 completed its final upline drive from Hutatma Chowk to CSMT Metr… https://t.co/q3qT5Q139p

— MumbaiMetro3 (@MumbaiMetro3)1622469534.0
As per reports, this intervention has aided the completion of a 5.8-km-long tunnel between the two aforesaid junctions. It is noteworthy that Cuffe Parade, Vidhan Bhavan, Churchgate and Hutatma Chowk Metro stations are a part of the package-1 program by MMRC. As per reports, the management body has informed that the final drive of more than half a kilometre between Hutatma Chowk and CSMT Metro station got finished in nearly 149 days, deploying a total of 405 concrete rings.


Now the tunnelling process along the entire stretch of the underground metro line from Cuffe Parade to CSMT Metro Station is complete and the objectives of package-1 stand materialised. As per reports, package-1 has now registered eight breakthroughs in total, which includes four stretches of the metro line. Reportedly, this encapsulates Cuffe Parade to Vidhan Bhavan, Vidhan Bhavan to Churchgate, Churchgate to Hutatma Chowk and Hutatma Chowk to CSMT.
Mumbai Metro 3.0 or Colaba-Bandra-Seepz Line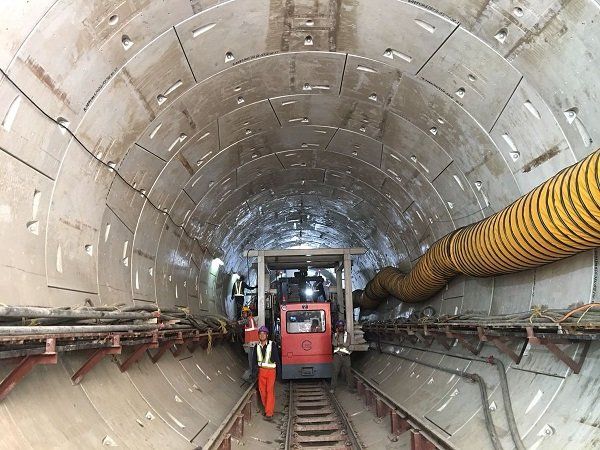 Mumbai Metro Line-3 is expected to expand over a length of 33.5 km. Connecting the major spots of Colaba, Bandra and SEEPZ, this extended facility will be functional along an extensive underground corridor. Out of the 27 stations being built on this route, 26 will be underground complexes while one will be established at grade. Once ready for operations, this service will supplement the local transport network in the city, benefitting a large count of individuals.
- With inputs from The Indian Express