Underground Dustbins in Delhi will now solve waste management woes!
December 20, 2018
After pollution, the second severe menace plaguing Delhi is poor waste management or rather a complete lack of it. And to tackle that, the Delhi government has finally installed underground dustbins in 12 different locations.
What makes these underground dustbins different from the normal ones is the sensors they are fitted with. The sensors automatically turn on the alarm in the New Delhi Municipal Council (NDMC) control room, when the dustbin is 90 percent full and someone is immediately directed to clean them.
A survey was held before installing bins in the following areas of the capital - Kerela House, Nehru Park, Khan Market, Diplomat Hotel, Ravindra Nagar, Telengana House, Talkatora Stadium, etc.
The dustbins have separate trolleys for wet and dry waste and also have a lid to cover them, which will prevent them from overflowing. Since the bins are meant to be placed underground, the foul smell from the garbage will not spread and also scavangers and rodents will be kept at bay. These dustbins have been put on the exact same places as the dustbins on the surface. Of course the city will look not only clean but also beautiful if the dustbins are out of sight! 20 more underground bins will be installed in the coming days, as per the order.
The idea of underground dustbins originally came from the European countries, where it has been implemented successfully. They are also currently in use in Dharmashala and Surat. And now Delhi is joining this league. The idea bore results everywhere, and so will surely be a boon for the people of Delhi.
*Featured image for representational purposes only
For most of us from Noida, the Metro is nothing short of a lifeline. A saviour in times of need, the metro has connected various parts of Noida to mainstream Delhi. Now, however, you're going to have to take a different look at these metro trains, because you can rent them for throwing parties!
Granted, that isn't really the first thought that comes to mind when one says either party or metro, but it is certainly something interesting. From now, one can book a metro coach on our favourite Aqua Line metro and celebrate any occasion. So read on to find out how it's going to go down and everything else you need to know.
What's the update?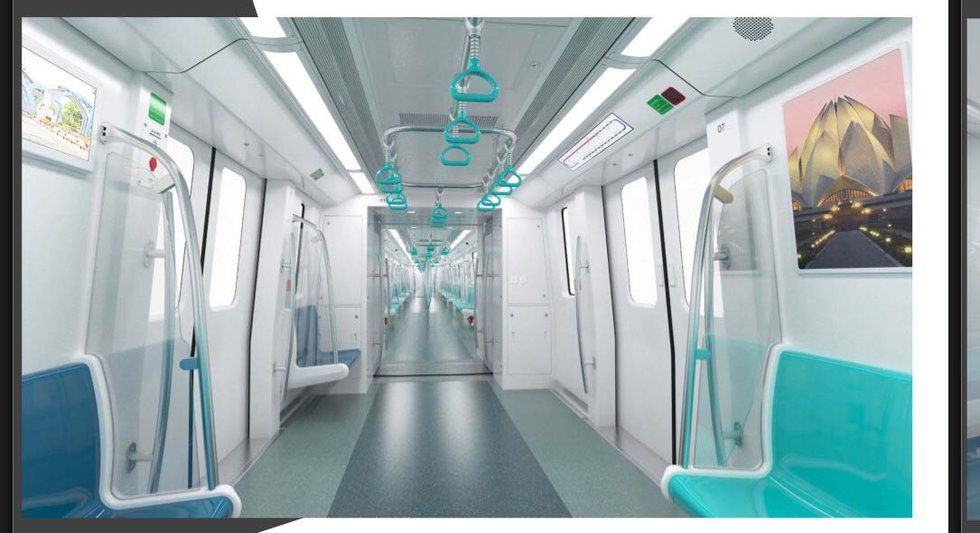 attachowk.com
Ever wanted to party in a Noida Metro Train coach? Well, it seems that now you can, with NMRC's latest initiative. The idea was taken from similar initiatives in Jaipur, Gujarat and Gurugram's Rapid Metro, where train coaches can be rented out for parties. Incidentally, no other foreign country implements this rule.

One can book coaches on operational as well as stationary trains. To ensure that the average commuter isn't held up, only up to 4 coaches can be booked by a party. For booking coaches, you're going to have to pay a security deposit of ₹20,000 and then ₹5,000 to ₹10,000 each hour. Paying extra will get you a decorated coach from the NMRC, so that you don't have to do anything.
In order to actually book a coach, or four, all you have to do is head over to the NMRC's website and apply at least 15 days prior to the date of engagement. Following that, the NMRC will look into the matter and you can get partying in your metro coach within no time!
Knock Knock
The NMRC is constantly coming up with innovative ways to generate revenue from Noida Metro. Earlier, the metro stations opened up for film and television shooting. In the near future, we expect the revenue to help improve and expand Noida Metro.
Subscribe to our newsletter
It's that time of the year again, when your Facebook will show you ads related to all things Valentine, there'll be a rise in pink-red teddy bears at the store windows and of course, the florists will be selling Roses at the price of Orchids. Valentine's Day is en route and if you too, are a part of Cupid's gang and love the day in all its glory, you must be scouting for things to do on this day with your beloved.
Food Festivals are often the best place to find a good time. The energy, the wafting aroma of food, the opportunity to eat, shop and be merry is something we look forward to dearly. of all the food festivals that happen in Delhi, Horn OK Please is the one tyeb city is undoubtedly the most excited for.
By now, if you still don't have a Valentine's Day plan, you've chanced upon the correct article!
If you're in Delhi and have been scouting to get your hands on the best deals for your beloved, that's where PVR Home is walking in on you. PVR Home is a unique offering from the stable of PVR Cinemas; explicitly designed to attract folks from various fields, all under the same roof! They've built a community of industry stalwarts, epicures and forward thinkers, who have further opened doors to intellectual rendezvous in an elite and premium set-up, which is nothing less than interesting.
"A dessert is like a feel-good song and the best ones make you dance." These words, said by the great chef Edward Lee holds true to the core and us dessertarians, couldn't agree more.
A good serving of dessert sets our mood like no other and there isn't a problem, which desserts cannot fix. Delhi clearly understands our emotions related to sugary delights and the city has given us ample of options to binge at, for an epic sugar rush.
Pet parents, if you've been wishing your doggos on Valentine's Day every year because you hail them as your one and only Valentine, then you're probably a part of our gang! The amount of love we have for our doggos cannot be comprehended by our mere mortal words and the love we receive in return, is irreplaceable and unconditional.