Authorities can penalise and take other strict actions against people who violate the COVID restrictive protocols.
In a bid to curtail the volatile spread of coronavirus infections in Kanpur, district authorities on Friday, announced to increase surveillance at all containment zones in the territory. As per reports, fresh instructions have been issued to station police officials and beat officers round the clock, at each such restricted areas in the city. These officials will be further assisted by the patrolling officers. Additionally, the Deputy Commissioner of the Police has directed to ensure that no one, except for essential services personnel are allowed entry in places that nurse over one COVID case.
Kanpur Police to adopt strict measures to break infection spread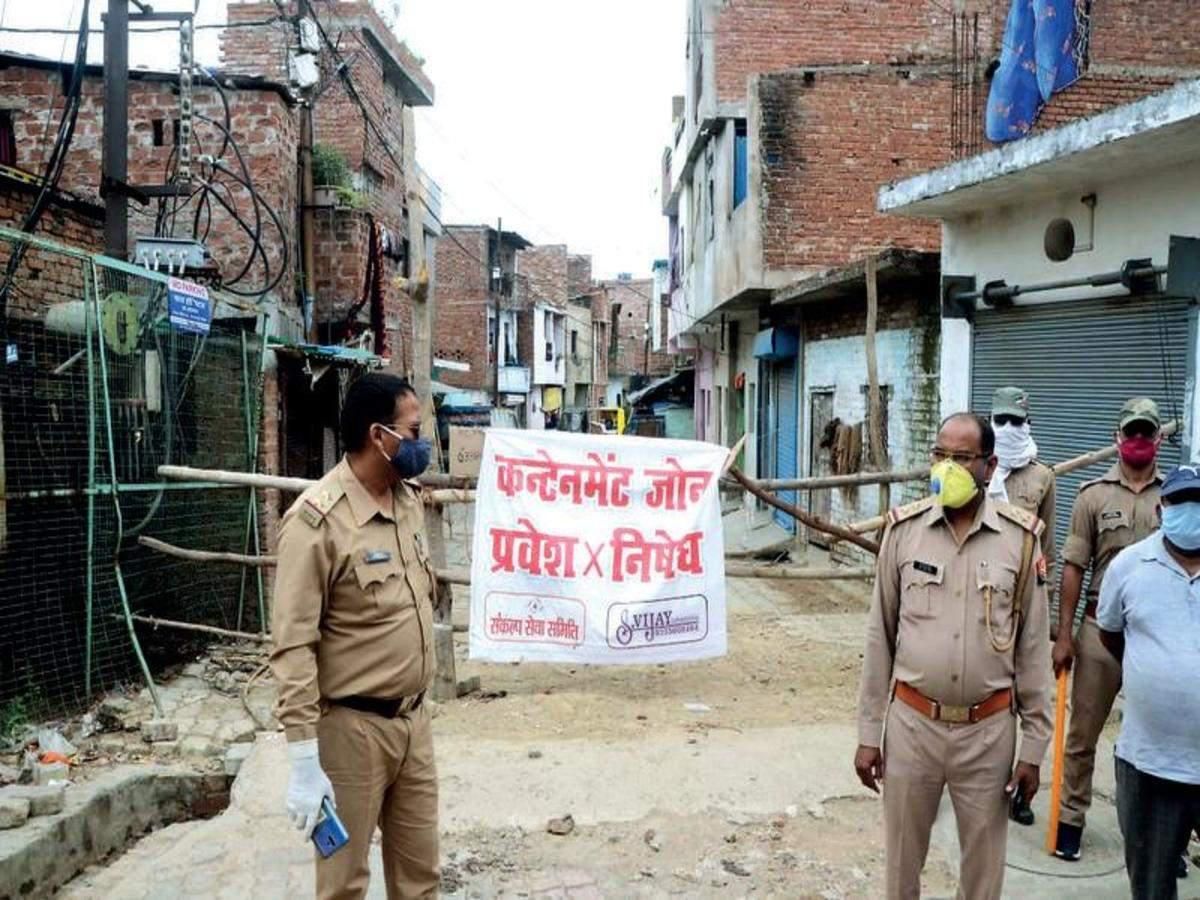 Despite the surging threat of a raging pandemic, Kanpur is shrouded in a sense of laxity and callousness. While hotspots and containment zones were completely sealed last year, this time around, several cases of negligence have emerged, raising alarms and COVID tallies here. On Friday, an easy public movement was noted in several containment zones in the city, such as Tilak Nagar, Kakadev and Swaroop Nagar among others.

As consequence, police officers have now resorted to strict restrictions and vigil to ensure that this movement is curtailed. The Deputy Commissioner of Police, Kanpur, has further directed the officer in charge at all police stations to monitor containment zones in their jurisdictions, at regular intervals. All people, except for those involved in essential services, will not be allowed to move freely. Violation or disobedience of these norms will result in penalisation.

On Friday, Kanpur's case tallies surged by 777 new cases to reach a cumulative tally of 77,522 infections. On the other hand, around 1,647 recoveries were noted here in the last 24 hours. With 31 deaths, the district logged in the highest share of deaths reported in UP on Friday. As yet, around 1,401 people have succumbed to the virus here.
Keep reading...
Show less
All interested individuals can apply through the registration portal on the university website by May 10 (5 PM).
Amid heightening oxygen demands across the country, the APJ Abdul Kalam Technical University in Lucknow, is going to organise a hackathon aimed at finding optimal solutions for the LMO crisis. Inviting participation from students, teachers and research fellows, the event will be a race to devise innovative and optimal solutions for reducing wastage, leakage and losses. All interested individuals can apply through the registration portal on the university website by May 10 (5 PM).
A step ahead towards alleviating the oxygen scarcity
@AKTU_Lucknow is organizing #hackathon on #OxygenShortage, innovative ideas with #technological solution are invite… https://t.co/AVEyLHXfHD

— AKTU (@AKTU)1620323820.0
The main objective behind this competition is to deliver top-notch sustainable solutions for effective management of problems related to oxygen shortage. While lagging supplies constitute an important reason behind this, the scarcity has become accentuated by the avoidable losses. If these preventable issues are addressed and fixed in time, the scope of meeting the escalating demands becomes enlarged. Taking a cue from similar thoughts, the technical varsity has launched this attempt to solve the difficulties related to oxygen supply.

Assuring a systematic organisation of the event, the university has listed a set of problem statements and the participants will have to attempt to find answers for them. After the ideas are aggregated, the best ones would be hand-picked and the innovator will be rewarded with a token of achievement.
Once the formulated ideas can be turned into real-world solutions, they will be used to help hospitals across Uttar Pradesh in better management of their inventories. Subsequently, the plans also indicate nationwide implementation of projects depending on their success and efficacy in the initial runs.
Keep reading...
Show less
Subscribe to our newsletter