All about this Robocop in Indore!
November 12, 2018
Indore is fast becoming one of the more developed cities of the country. If you're a die hard Indori, you perhaps already know about the massive 14 feet robotic traffic policeman at the busy Barfani Dham intersection. However, if you're a tourist or just a visitor, this unique robocop will surely be a fascinating sight to behold.
Starting out in 2017, the robocop is here to manage traffic in a more streamlined fashion. Acting as a traffic signal and a traffic cop, it can rotate about its axis and move its arms just like a real traffic cop. It records all activities and transmits them live to the main police control room for review and offenders are immediately sent an e-challan.
Here is a video of the robocop in action
The project was undertaken by Indore police and built by Venkteshwar Institute of Technology. Due to the level of secrecy involved, the tasks for making the mechanisms were assigned to different groups of students. Their motivation behind this was to try the future of robotics in India, and replace a human traffic cop for the first time in the country.
This is a stepping stone in Indore's drive towards a more developed and futuristic city. Such initiatives have seen traction in foreign countries like UK and Dubai and we are eagerly waiting to see how the experiment will pan out in India.
For most of us from Noida, the Metro is nothing short of a lifeline. A saviour in times of need, the metro has connected various parts of Noida to mainstream Delhi. Now, however, you're going to have to take a different look at these metro trains, because you can rent them for throwing parties!
Granted, that isn't really the first thought that comes to mind when one says either party or metro, but it is certainly something interesting. From now, one can book a metro coach on our favourite Aqua Line metro and celebrate any occasion. So read on to find out how it's going to go down and everything else you need to know.
What's the update?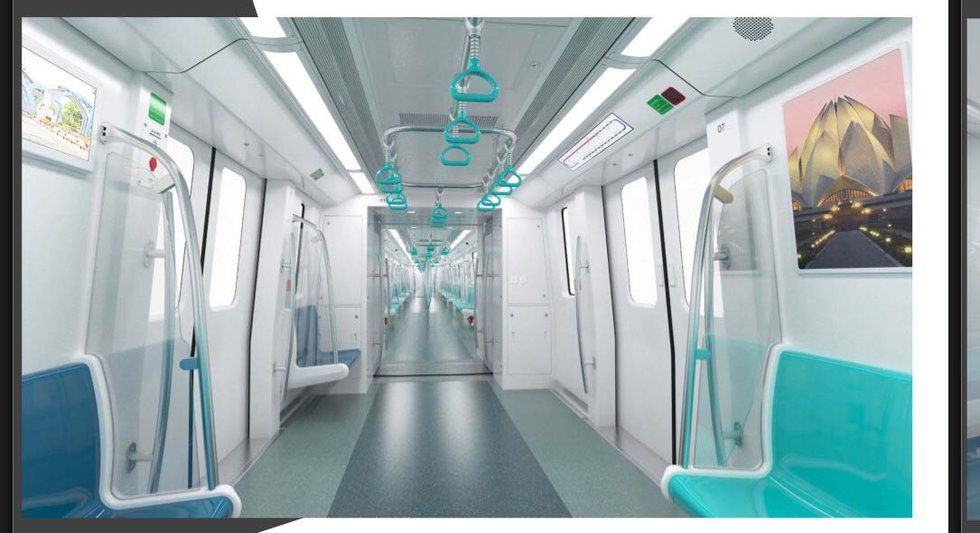 attachowk.com
Ever wanted to party in a Noida Metro Train coach? Well, it seems that now you can, with NMRC's latest initiative. The idea was taken from similar initiatives in Jaipur, Gujarat and Gurugram's Rapid Metro, where train coaches can be rented out for parties. Incidentally, no other foreign country implements this rule.

One can book coaches on operational as well as stationary trains. To ensure that the average commuter isn't held up, only up to 4 coaches can be booked by a party. For booking coaches, you're going to have to pay a security deposit of ₹20,000 and then ₹5,000 to ₹10,000 each hour. Paying extra will get you a decorated coach from the NMRC, so that you don't have to do anything.
In order to actually book a coach, or four, all you have to do is head over to the NMRC's website and apply at least 15 days prior to the date of engagement. Following that, the NMRC will look into the matter and you can get partying in your metro coach within no time!
Knock Knock
The NMRC is constantly coming up with innovative ways to generate revenue from Noida Metro. Earlier, the metro stations opened up for film and television shooting. In the near future, we expect the revenue to help improve and expand Noida Metro.
Subscribe to our newsletter
Delhi elections are just around the corner. While the tensions are high in the national capital, with numerous campaigns and rallies asking people to cast their precious vote, there are a few who still need to make travel plans in order to cast their vote. To ensure that every last voter gets to practice their democratic right and no vote is lost, SpiceJet is offering free tickets to those who're registered as voters in the Delhi.
In just a matter of three years, Mumbaikars will be able to take a 12-hour drive to get all the way down to Delhi, and vice versa. The 8 lane highway that is the NHAI's (National Highways Authority of India) pet project has just been put on the fast track to completion by January 28, 2023. Authorities have stated that there will be no flexibility in this date.
We all know Mother Dairy as the standard milk and milk products seller. Every locality in Noida has its very own Mother Dairy and it is how we guide the Zomato delivery executives to our homes- "Bhaiya Sector 18 ki Mother Dairy ke paas aana hai apko". We have had the opportunity to visit the Mother Dairy ice-cream parlours too, but this new branch of Mother Dairy is completely new to us!
Delhi's Mughal Gardens, which open for a couple of weeks annually, are now again gearing up for their public opening this year. Locals and tourists alike, wait an entire year just to take in the mesmerising beauty of these gardens. The garden is expected to be open from February 05 to March 08, 2020.