Don't miss out on the unique festival of cucumbers in Goa if you are planning a trip in July.
The cultural vibrancy of Goa is as vibrant and lively as its party scenes and yes we know, one hardly needs a reason to feel festive when in the sunshine state. But you've got to catch the celebrations of the Touxeachem Fest if you are planning a visit in July. A Konkani word, 'Touxeachem' literally translates to cucumber and this fest is celebrated at the splendid Church of St. Anne, at Talaulim in Tiswadi. Each year, the town is painted in joyous vibes, decked up in bright and colourful atmosphere to welcome devotees from all across the world!
---
Unique traditions of immense faith!
While the festival is celebrated on the last Sunday of July, the merry-makings hit off 9 days prior when devotees of all sects flock to the town of Talaulim, to be a part of the novenas, before the Touxeachem Feast. A legacy, this festival is characterised by unusual customs, as evident from its name. It is said that offering cucumbers to St Anne helps to fulfil any favour or wish. As per the rituals, people offer two cucumbers, one is laid on the feet of the Lady while the other one is taken back after it has been blessed.

The collected offerings are distributed among villagers and priests who come to the town on the day of the fest. The remaining are sent to the neighbouring towns. These are then used to prepare a feast and people usually use them in salads. As legend spins, people have immense faith that these 9 pious days of novenas can help them fulfil their choicest desires.

Faith truly can move mountains!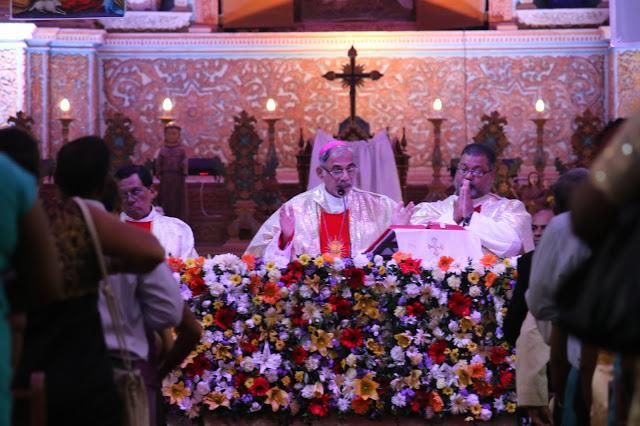 isharethese.com
According to a legend, it is believed that St Anne has the divine power to bless young couples with a child. Magnetised by the popular folklore that St Anne was blessed with a child after 40 years of barren life, it is believed that if childless couples offer cucumber to the Lady and chant a petition in Portuguese, they are blessed with a child. Not only that, bachelors offer spoons and maidens offer lentils like urad daal to get married. Well, faith truly can move mountains!
A festival is not a festival till you get to indulge in the heavenly goodness of sweets and Touxeachem Fest is no different. A night before the D-day, several vendors from Ponda set up stalls here. While a large number of stalls continue to sell cucumbers, which are in great demand by the devotees, make sure to look for Khaje and dive into the deliciousness of this traditional Goan sweet!

Knock Knock
A sight to behold, the Touxeachem Fest blends in the beauty of two different culture to light up the picturesque village in Tiswadi in Goa. People of all sects, religions and all those who believe, find themselves becoming a part of the procession here, each year. So, if you too have a desire that you wish St. Anne to fulfil, make sure to grab the season harvest cucumber and make your way to Talaulim!