It is believed that Santa Monica is Asia's first and the largest nunnery.
Goa is resplendent with churches that stand as a testimony to its golden culture and history, against the test of time. While there are several chapels, convents and churches in the sunshine state, a 17th-century structure by the name of Santa Monica steals much limelight, amidst others. Supposedly, it is also the first and largest nunnery in the Asian continent.
Believed to be a shelter from the vices and foibles of the material world, this fortress-like structure chronicles a chapter of past, with grace, dignity and tangible beauty. Step into the shrine of Santa Monica and the Chapel of the Weeping Cross, in Goa, to unfurl divinity and peace in its massive courtyards.
---
A step closer to divinity
While the foundation stone of this place was set in 1606, it did not stand up to its final glory until the next 21 years. Built like a fortress, glorifying the Portuguese school of architecture, the chapel blends Tuscan, Corinthian and composite styles on the outside, along with Doric and composite on the inside, with great attention to details. From symbols of the Holy Ghost to the granite carvings of a Caravel, the place is held in great veneration and derives its name after the mother of St. Augustine.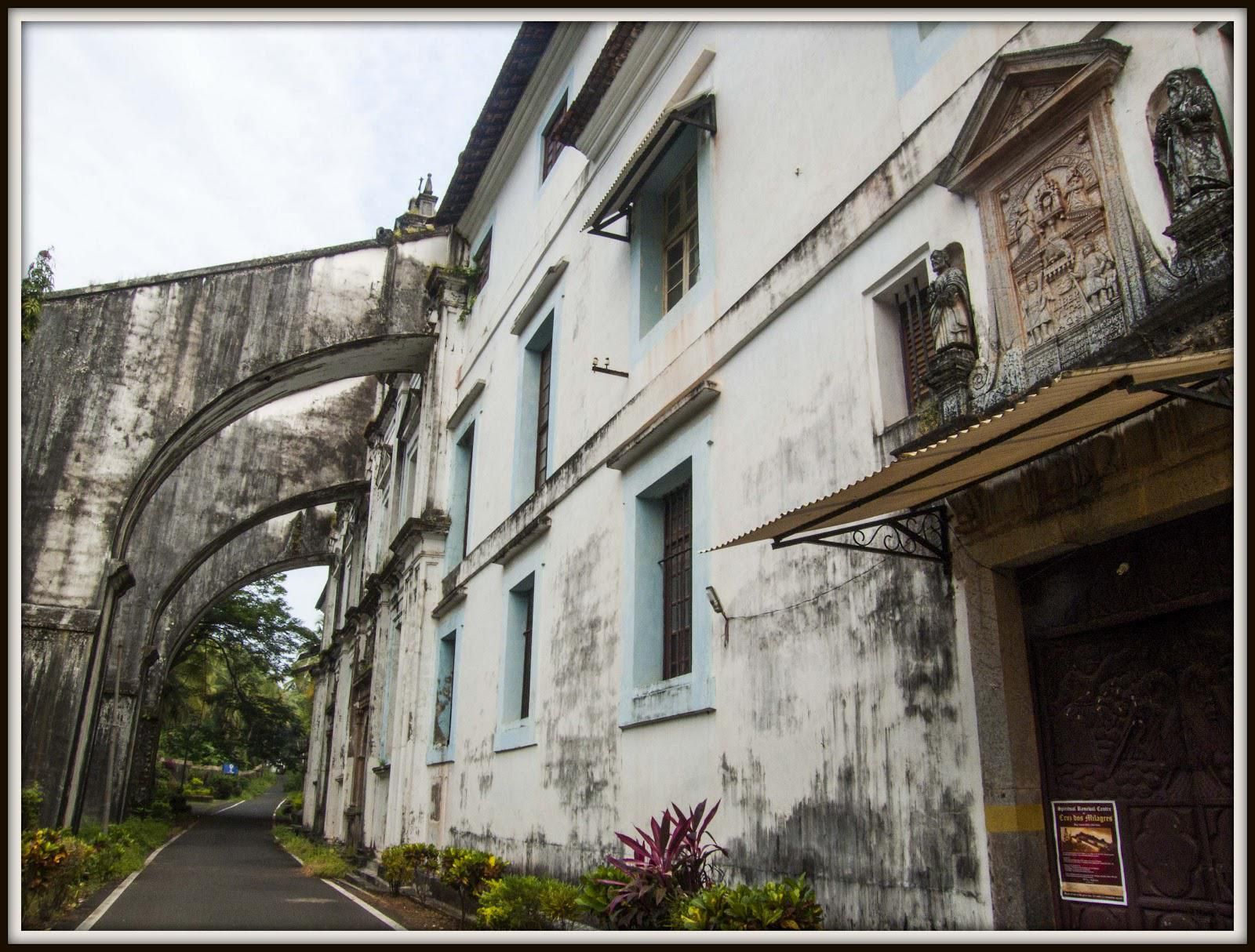 ttnotes.com
Atop a hill, the building is characterised by thick walls, buttresses and high ceilings, which were believed to repel the whims and vices of the outward world. Standing in its pristine splendour to this date, this place still has an abstract charm, enveloping each and all in its holy warmth! Besides the altar of Santa Monica, the walls of this quadrangular structure further house the chantry of Bom Jesus, Immaculate Mary, and Crucified Christ, popularly known as the Weeping cross.

In addition to nuns, this chapel was a sanctuary for widows and women who wanted to dedicate their time in the service of Christ, while their husbands were away for business. Today, the sanctuary houses the Mater Dei Institute, forming the faith of women from all religious congregation across the country. The convent, on the other hand, has been revamped as the Museum of Christian Art Goa, attracting people to its doorstep each day.
Knock Knock
So if you're planning an escape from the regularity of your life, get set to scale a hill and visit the Convent and Church of Santa Monica. While you're here, a visit to the Basilica of Bom Jesus can't be missed and you should also stop by the Chapel of Weeping Cross, as you head to the museum of wonders.

The chapel is open to all throughout the week from 9:30 AM to 5 PM