Coronavirus India Update: Total cases cross 500; PM Modi to address nation once again today
March 24, 2020
While the COVID-19 threat is keeping Indians indoor, the number of cases are steadily increasing. Just today, the number of total cases in India crossed the 500 mark and currently stands at 511, 12 of which are cases which have arisen today.
To help bring some calm in these trying times Prime Minister Narendra Modi will once again address the nation today at 8 PM.
---
As of now, the India is in Stage-II of the spread of the virus. Essentially, this means that the virus can only spread through those who have got in contact with patients of the disease.
However, if the spread continues at the same rate, it could lead to the more deadly, Stage-III of the virus.
What's the update?
In his second address to the nation, Prime Minister Narendra Modi will share with his fellow countrymen some "vital information regarding COVID-19". The Prime Minister also sent out a tweet which reiterated his point about addressing the nation. In his earlier address, he urged people to practise social distancing.
Have a look at what the tweet says:
वैश्विक महामारी कोरोना वायरस के बढ़ते प्रकोप के संबंध में कुछ महत्वपूर्ण बातें देशवासियों के साथ साझा करूंगा। आज, 24 मार्च रात 8 बजे देश को संबोधित करूंगा।

Will address the nation at 8 PM today, 24th March 2020, on vital aspects relating to the menace of COVID-19.
— Narendra Modi (@narendramodi) March 24, 2020
Coronavirus Update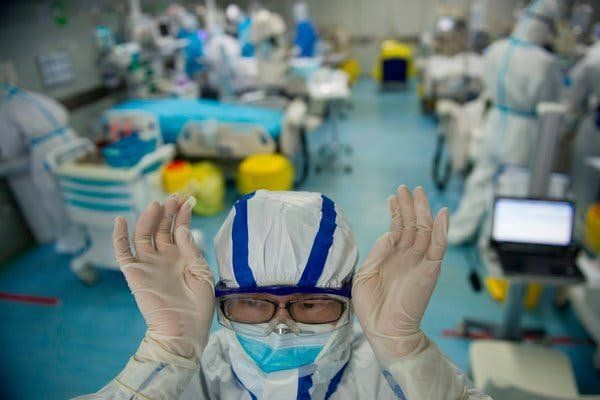 static01.nyt.com
All over the world, the number of cases is increasing at an alarming rate. There are a total of 3,81,761 active cases all over the world and about 500 of them are in India. At this point in time, China still has the most cases, with Italy and USA following suite.

In India, matters are being taken very seriously. In the country, 30 states and Union Territories have been put under either the lockdown or have imposed curfews.
Delhi, Rajasthan, West Bengal, Kerala Chandigarh, Goa, J&K, Ladakh, Uttarakhand, Jharkhand, Bihar, Telangana, Andhra Pradesh, Chhattisgarh, Himachal Pradesh, Arunachal Pradesh, Nagaland, Haryana, Tripura, Karnataka, Assam and Gujarat are states and UTs under complete lockdown.
At the same time, Maharashtra, Punjab and Puducherry have imposed curfews, while Uttar Pradesh, Madhya Pradesh and Odisha have been put under a partial lockdown.
Knock Knock

The COVID-19 threat is not one to be taken lightly. Doctors and medical professionals are hard at work trying to find a cure for this deadly epidemic and until then, all we can do is isolate ourselves to help curb the spread of the disease.
Related Articles Around the Web
While humans continue to sit indoors during the lockdown period, nature continues to restore itself. The sky is clear, there is a noticeable change in air quality and the internet is flooded with videos of fauna returning to their habitats. Amidst all these pleasant changes that are helping people stay positive and sane in these tough times, is a new picture straight from Jalandhar, Punjab.
Amidst the incessant dark and doomed news pieces being circulated related to COVID-19 deaths and active cases around the world, including India, it is also important to focus on the positive side of the stories too. In a pleasant turn of events, an elderly Kerala couple have recovered from COVID-19. They had contracted this deadly virus from their children and grandson, who had returned from Italy and the rest of the family too, have now recovered from this disease.
In light of recent events that have occurred almost all over India, Spicejet, the privately run airline, has offered to lend a helping hand to all migrant workers who are stuck in Delhi and Mumbai. Since a major chunk of the migrant labour in these two big cities comes from Uttar Pradesh & Bihar, Spicejet is offering to run flights, to help the migrants' cause.