IRCTC's third private run train to begin operations from Indore starting February 20
February 12, 2020
The IRCTC's existing privately run trains seemed to have had quite an impact on not just travellers, but the Indian Railways as well. The trains are certainly a step above the already existing trains & in that light, the IRCTC's third private train will begin operations from Indore by February 20.
---
The train will go under the name Kashi Mahakal Express and will connect Indore to Varanasi- a route connecting two major upcoming development hubs in India. Here's all you need to know about the operations, logistics, and other details about the train.
What's the update?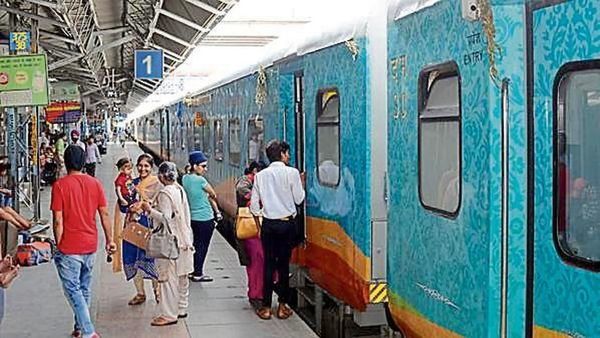 images.livemint.com
After several months of waiting, we've finally got some new information about the Kashi Mahakal Express, which is IRCTC's third privately run train. The train promises a slew of high end features such as those seen on Tejas Express, which runs from Lucknow to Delhi.
The train is the first privately run train that will undertake overnight operations. Running from Indore to Varanasi, it will cover the route in just a matter of a few hours. Additionally, it will come equipped with LED lights, CCTV cameras and also multiple mobile charging points among other things. The trains will also have onboard Wi-Fi, meals and stewards, facilities which are currently not on mainstream trains.
As of now, the IRCTC operates two other private trains- from Lucknow to Delhi and from Mumbai to Ahmedabad. Both these trains have reaped some serious benefits and the Indian Railways authorities are looking to make the railway system a future proof industry.
Owing to this, there are plans to have 150 private routes all over India, each of which will provide high end technology to passengers, along with a comfortable travel experience.
Knock Knock
The connectivity between Indore and Varanasi is something that was the need of the hour. The upcoming train will certainly help improve that by easing transport between these two places.
A decade long traffic bottleneck in Indore may soon be cleared out. This bottle neck is none other than the one at Jawahar Marg.
Subscribe to our newsletter
When it comes to accomplishments related to the city, Indore seems to be on a roll. In the recent past, the city has racked up several awards and laurels to its name, including the much talked of 'Cleanest City' title. Now, once again, Indore has proven that it's heading towards the smart city goal and bagged another title. In the 'Ease of Living Index 2019' survey, Indore City has risen to the second position, after coming in fourth last year.
The Indore Municipal Corporation (IMC) is well known for its efforts in making Indore cleanest city in the country. In the past, their efforts have won the city many accolades in relation to cleanliness, from being awarded the 'cleanest city' title 4 times in a row or having other cities follow its cleanliness model. However, now they plan to take things to the next level with their goal to achieve a 7 star rating in terms of garbage cleanliness.
Indore's mission towards a cleaner city has been a rather rewarding one. Over the past few years, Indore has been pushing the boundaries with new technologies and powerful initiatives when it comes to keeping the city clean. Among the newest of these initiatives is the introduction of an Aqua Harvester, which will help keep the water bodies of Indore clean and gunk free.
Indore is known for its quirky ways of spreading awareness about important issues. The city is home to a one of a kind traffic robocop who manages traffic at a major square in the city, which in itself is truly unheard of! Now, a dedicated citizen has taken matters into her own hands and aims to spread traffic awareness through dance. If this rings a bell, it is perhaps akin to the dancing traffic cop, who made quite a few headlines in his heyday.
Indore is known to most as the 'cleanest city in the country'. The city has won several cleanliness surveys, shone the brightest and has become the living example of what good civic sense and citizen awareness can do to a city. But it seems like the civic authorities in Indore aren't complacent with being four times winners of the Swachhta Surveykshan, now they're gearing up to make Indore India's first ever 'Silent City'.