Indore gears up to bag the "Swacchh" title for the third time
January 16, 2019
While rest of the country is paying no heed to the worsening pollution issue- be it land, air or water- Indore is busy composting and sprucing up its streets for the "Swachh" title one more time!
Indore has already won the 'Cleanest City' title twice and is now preparing to nab it for the third time and prove to the world that living clean and healthy is a possibility.
Indore, the industrial capital of Madhya Pradesh is also the cleanest city in India. The passion Indori people have for cleanliness and the cleanliness drive can only be understood after knowing about the steps they have taken to live their entire lives in a clean way.
Over 40,000 houses in Indore have started composting, the Indore Municipal Corporation is working day and night to make people aware about segregating their waste, recycling and living a sustainable life. The government is running campaigns, investing in expensive advertisements for awareness and sending trucks to collect garbage from every household. The walls, fly-overs and old buildings are being painted over with murals, public toilets are being beautified and common people have voluntarily taken to the streets to help the government and authorities in changing the face of their city.
It is very seldom seen that people, government and authorities come together collectively as a community and decide to focus on a shared goal, but the swachh inspection has made it a reality in Indore. It is this sheer focus that made it possible for the city to get rid of 11 lakh ton of garbage that was dumped on the trenching grounds and completely change it into a place of beauty. And the best part? The dry plastic waste is going to be used to produce 3-4 thousand liters of diesel every day starting 20th January.
What a commendable approach to cleanliness.
Let's hope that Indore wins the 'Swachh' title once again and continues to work towards the goal of living a clean and sustainable life.
For more interesting stories and updates follow Knocksense Indore on Facebook.
Delhi's IGI airport is among the top airports in the world. With all the facilities of a world class international airport, IGI now has one more credit to its name. Recently the IGI airport became India's first airport to be free from single-use plastic.
Subscribe to our newsletter
Have you ever been running late to the airport because of the sheer number of bags you have? If your answer is yes, then IGI airport has got you covered. Now, in a new initiative by the DIAL (Delhi International Airport Ltd) you can have your stuff transported to the IGI airport directly from your place of stay.
Delhi International Airport Ltd., the operators of IGI airport have partnered up with a Bengaluru based company called CarterX. In fact, this facility is not limited to be availed by only those taking off from Delhi, it can also be used to get your luggage delivered to your residence when you touchdown at IGI.
What's the update?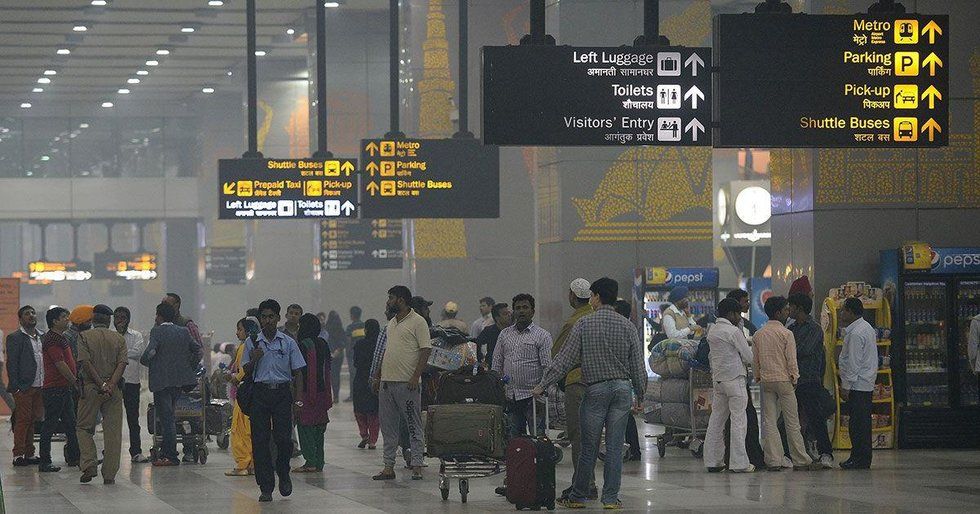 s02.sgp1.cdn.digitaloceanspaces.com
In a bid to make travelling to and from IGI airport easier for passengers, DIAL has undertaken a partnership with CarterX to start a service where a commuter's luggage can be transported to and from the IGI airport directly from their place of residence. This, essentially, is a step towards making checking in to the airport a breeze.

Additionally, if you're short on time and are planning to take the direct metro link to the airport, this is a great way to ensure that you don't have to lug your stuff around.
To avail the service, you will have to pay a fee based on the number, weight and size of the bags. The fee will also take into account distance to and from the airport, meaning the prices are going to be dynamically triggered. At any rate, the base fare is ₹299, which goes up depending on the aforementioned factors. For every 5 kilograms over 20kgs, an additional ₹100 will be charged.
Knock Knock
This is certainly one of the most passenger forward moves we have seen DIAL take. The IGI airport is at par with the best airports in the world and this is something that should take its rating all the way up. DIAL and CarterX have both stated that with this service, they aim to cover the entirety of Delhi, including neighbouring states- Haryana, Uttar Pradesh and Rajasthan.
For most of us from Noida, the Metro is nothing short of a lifeline. A saviour in times of need, the metro has connected various parts of Noida to mainstream Delhi. Now, however, you're going to have to take a different look at these metro trains, because you can rent them for throwing parties!
Delhi elections are just around the corner. While the tensions are high in the national capital, with numerous campaigns and rallies asking people to cast their precious vote, there are a few who still need to make travel plans in order to cast their vote. To ensure that every last voter gets to practice their democratic right and no vote is lost, SpiceJet is offering free tickets to those who're registered as voters in the Delhi.
In just a matter of three years, Mumbaikars will be able to take a 12-hour drive to get all the way down to Delhi, and vice versa. The 8 lane highway that is the NHAI's (National Highways Authority of India) pet project has just been put on the fast track to completion by January 28, 2023. Authorities have stated that there will be no flexibility in this date.
We all know Mother Dairy as the standard milk and milk products seller. Every locality in Noida has its very own Mother Dairy and it is how we guide the Zomato delivery executives to our homes- "Bhaiya Sector 18 ki Mother Dairy ke paas aana hai apko". We have had the opportunity to visit the Mother Dairy ice-cream parlours too, but this new branch of Mother Dairy is completely new to us!