Amitians in Lucknow, Ahoy! Amiphoria 2020 is back this February with a theme of self-love
January 31, 2020
John F. Kennedy once said, "As we express our gratitude, we must never forget that the highest appreciation is not to utter words but to live by them."
---
Amity University, Lucknow Campus is committed to all the promises it makes and is back with a bigger and better edition of its yearly cultural carnival AMIPHORIA 2020. This cultural spectacle provides a platform for students and young ambitious individuals to showcase their talents and how!
This 3-day jamboree organized from the 5th to 8th of February, is deemed as one of the biggest and the best youth extravaganzas happening in Lucknow and here is everything you need to know about it.
What's Happening?
Zayn Malik once said, "Life is not an mp3 where you can play what you want but life is like a radio where you have to enjoy what's being played." Along the same lines, Amiphoria this year is all set to be an epicentre of an enormous wave of self-love and celebration of life.
The event is staged to encourage the youth to celebrate life in all its forms. Hence, Amiphoria's theme for this year is ' jashn-e-zindagi'; kyuki woh kehte hai na 'zindagi badi nahi lambi honi chahiye.
With a number of great events under its belt, this year's fiesta will be grander and better than its predecessors, setting milestones for any future events. From high-energy debates, discussions, quizzes to dance face-offs, band competitions, gaming, singing, photography, film-making competitions and more, Amiphoria has it all.
Attractions like selfie corners, culinary competitions and presentations, tasting multi-cuisine recipes and mesmerizing cultural evenings too, will be an integral part of Amiphoria 2020.
The event introduces students to experience a platform that is abundantly giving; it helps them sharpen their edges, get a lick of the future and teaches them how to operate in practical scenarios. The event is organized, coordinated and run by students, hence they get to see and learn things on-hand, immerse themselves in the practicality of organizing an event of this scale, beyond their classrooms.
The event will be flagged off with a carnival and a flashmob, after which various competitions and programs will be held. The events include competitions like Xuberance (MR. & MS. Amity) and Kavita Kisse Kahaniya, amidst others- all of this followed by DJ night, to end this magnificent 3-day celebration.
Knock Knock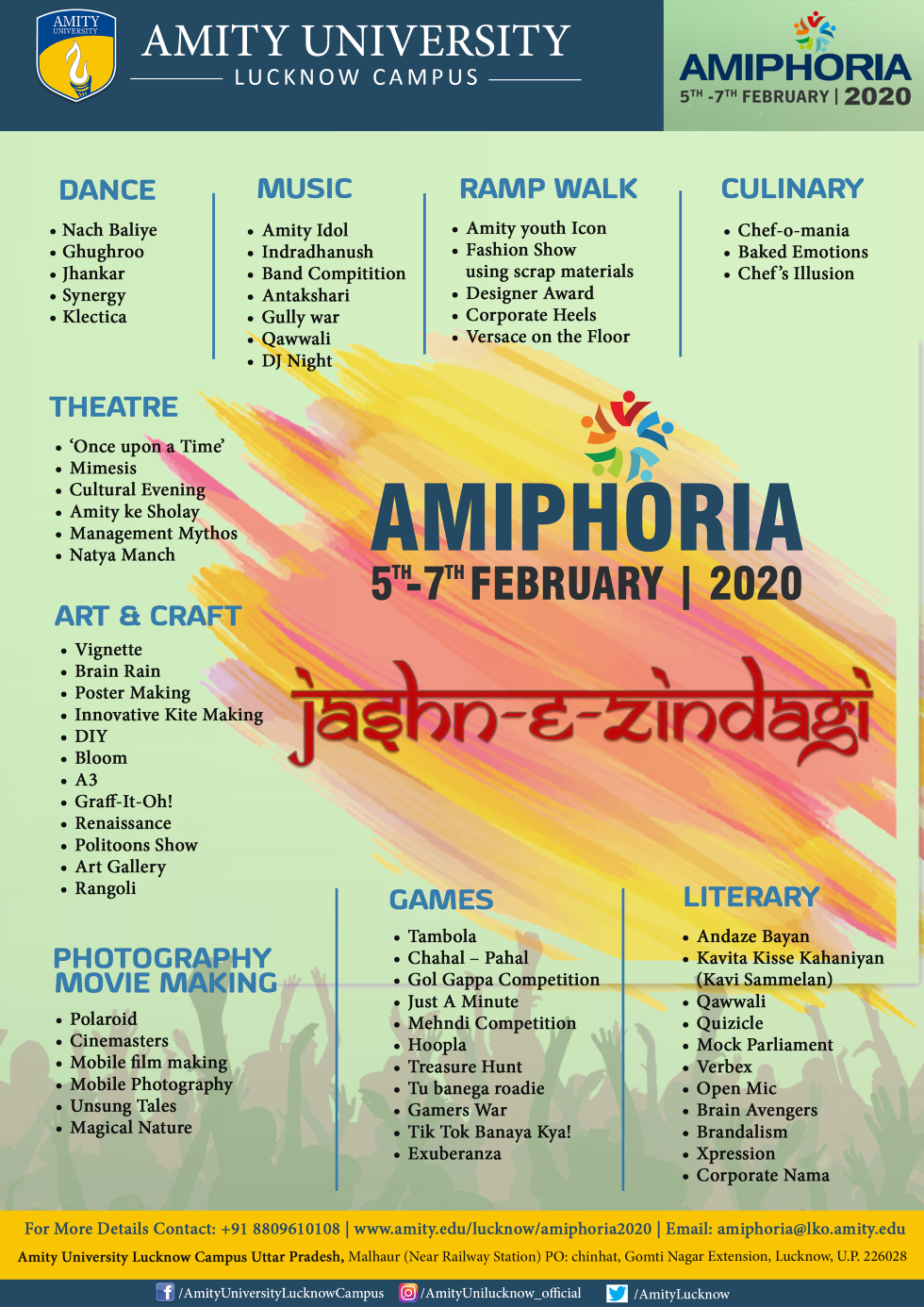 images.assettype.com
Amiphoria 2020 is harmonious with the mantra for a happy life- 'Flow with the flow of life'. All in all, this vibrant festival will have something to offer to everyone out there, especially to the youth and you'll be going back with a new perspective of seeing life as a celebration. Amiphoria gives you all the reason to be a part of it and you should be here, to make the most of your days.
Individual participation registration link: https://forms.gle/cPKdBbeKty9ZesZL6
Group participation registration link: https://forms.gle/JfA5W5tcHpRkV47D9
For more details: www.fb.com/AmityUniversityLucknowCampus
Article by Shristi Shukla
The new year isn't really 'new' anymore. Time's flying at warp speed and behold, it's almost February end! But even at this rushing pace, we can't lose out on having a good time, right?!
Subscribe to our newsletter
The Drowning Street has always been the talk of the town! Its swanky space coupled with a feel-good ambience, keeps us coming back for more. Over the months it has become our go-to weekend hub, whenever we want to dance away the night to a groovy playlist and binge on delicious munchies along with it. TDS has just turned a year old and this weekend, they're inviting us to be a part of their birthday celebrations.
With Holi just around the corner and shaadi season in its full swing, we are always looking for a good affordable and chic ethnic piece that will just make us the centre of all conversations. Be it a wedding, a pooja ceremony or just a regular day, nothings beats the charm, grace and the simple wonder of an ethnic garment. So if you too are looking for a statement ethnic piece, we have some exciting news for you!
In recent times, Lucknow has been on the forefront of development and with each passing day, the authorities are making sure that the city is even more comfortable to live in. With an array of new projects in line to bolster the city's reputation and offerings, Lucknow is now at the peak phase of its growth.
What aloo posto-bhaat is to Kolkata, litti chokha is to Bihar. You can't visit the place without mouthing this rustic culinary masterpiece, which is simplicity at its best! Synonymous to Bihar, this baked deliciousness is revered as much for its simplicity as for its tangy-zingy taste and it just refuses to withdraw from our palates. Needless to say, this earthy aroma & taste has fans every where in the world. Luckily for us Lucknowites, there are plenty of good places here, that serve an amazing plate of baati-chokha.
If you're a pet-parent reading this, we understand that knowing the best places for your four-legged baby's health, hygiene and care is your utmost priority. While there is plenty of information available on the internet, finding someone who makes your work easy by recommending the best for your pets would be a great help. Which is why we've listed 5 pet shops you can trust when it comes to your fur-babies.