When in Lucknow, one should definitely make a trip towards the place to lose themselves in it surreal beauty and innocence.
Lucknow is home to innumerable monuments and heritage buildings that sit on the cityscape like jewels on a crown. These ancient buildings and formidable monuments carry with them the story of the glorious days the city has seen and even tell of the city's troubled past. One of these breathtaking pieces of architecture is the Kothi Darshan Bilas; a queen's residence designed with elements from the European as well as Mughal influences.
---
Kothi Darshan Bilas stands as the victim of time, once forgotten and finally resurrected only to wither away without many knowing the stories that are associated with the palatial residence.
The Architecture
Kothi Darshan Bilas was built with influences from three of its most prominent neighbours, Kothi Farhat Baksh, central part of Chhatar Manzil, which lend its crowned turrets to the Darshan Bilas. The Dilkusha palace which was a replica of a stunning European home, lend the Kothi Darshan Bilas its front facade and the outer European style design. While the Musa Bagh, lent the Kothi its general layout and idea, as the 'Garden of Moses' (Musa Bagh) was itself a coming together of European and Mughal architecture.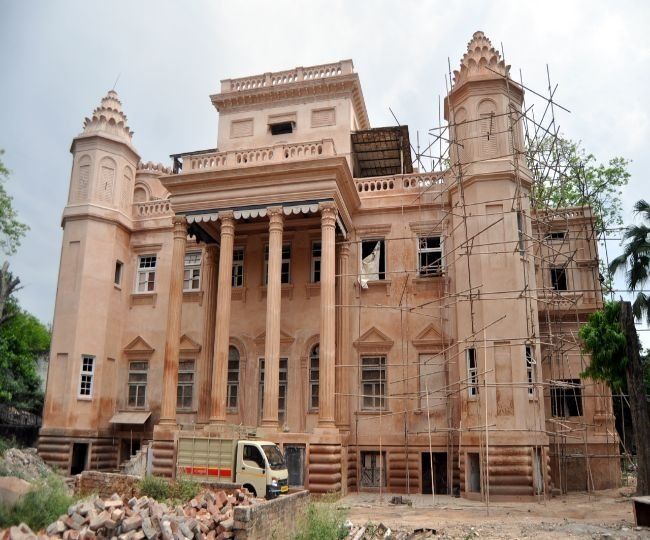 www.jagranimages.com
Thus, inspired by two of the most popular styles of architecture of the time, Kothi Darshan Bilas became a sight to behold. A true confluence of the Indian and European.
Of heart break, war and neglect
The construction work for Kothi Darshan Bilas was started by the ambitious Nawab, Ghazi Ud-Din Haider who passed away in 1827. However, the construction of the Kothi was soon resumed by his successor Nasir Ud-Din Haider who got the palatial building constructed as a residence for his wife Qudsia Mahal.
The palace was inhabited by the beghum and for a short period of time, came to be known forits beauty and grace. However, this was short-lived. The Nawab believing a false narrative accused his wife of treachery and the innocent beghum, unable to come to terms with the harsh treatment and the nawab's quick judgement of her character committed suicide, before the nawab could realise her innocence.
Soon after, the palatial building was subjected to the cruel war, which left the stunning residence a ghost of its past while the plaster fell of the walls and the ceilings cried with neglect and dilapidation. The kothi had to weather this neglect for another hundred years before it was finally renovated in 2019, after 182 years of sheer oversight and neglect.

Knock Knock
When in Lucknow, one should definitely make a trip towards the place to lose themselves in it surreal beauty and innocence. The newly renovated Darshan Bilas Kothi has several tales to tell, be it of architecture, history or love.