Head to Chowk and get yourself a glass of deliciousness
Holi is almost here and along with a string of things which makes this festival much-awaited, being able to chug on bottomless thandai is one of our favourite things to do. Especially the bhaang variant of thandai, which makes the festivity way more robust or at least, a glass of this drink makes us think so.
---
For the uninitiated, thandai is the desi version of a cold drink and is native to India. With a base of heavy-boiled milk, thandai is prepared with a mixture of almonds, fennel seeds, watermelon kernels, rose petals, pepper, cardamom, saffron, milk and sugar. While you can find quite a few stalls selling thandai around the old parts of Lucknow, Pandit Raja Thandai will surely stand out!
Wanna know more about Pandit's Raja Thandai?
Pandit Raja Thandai here at the Kasturba Market in Chowk, was set up in the year 1936 and since then, their thandai has lend Holi and other celebrations with a certain zest. The 4th generation of the owners are presently involved in making this drink here and without coming over and indulging in a glass of bhaang thandai at Pandit Raja's, festivities are honestly incomplete for many.

It's said that the thandai they serve is a blend of over 60 masalas, dry fruits, saffron and milk and it also has properties to cool you down because of the natural ingredients used in it. Leaping beyond the instant high, the relaxing overall feel of this drink is what makes it a go-to beverage.
This quaint shop has also witnessed visitors like Dilip Kumar, Kamlavati Tripathi, Raj Babbar, Sanjay Dutt, amidst others, which speaks volumes of its popularity!
Knock Knock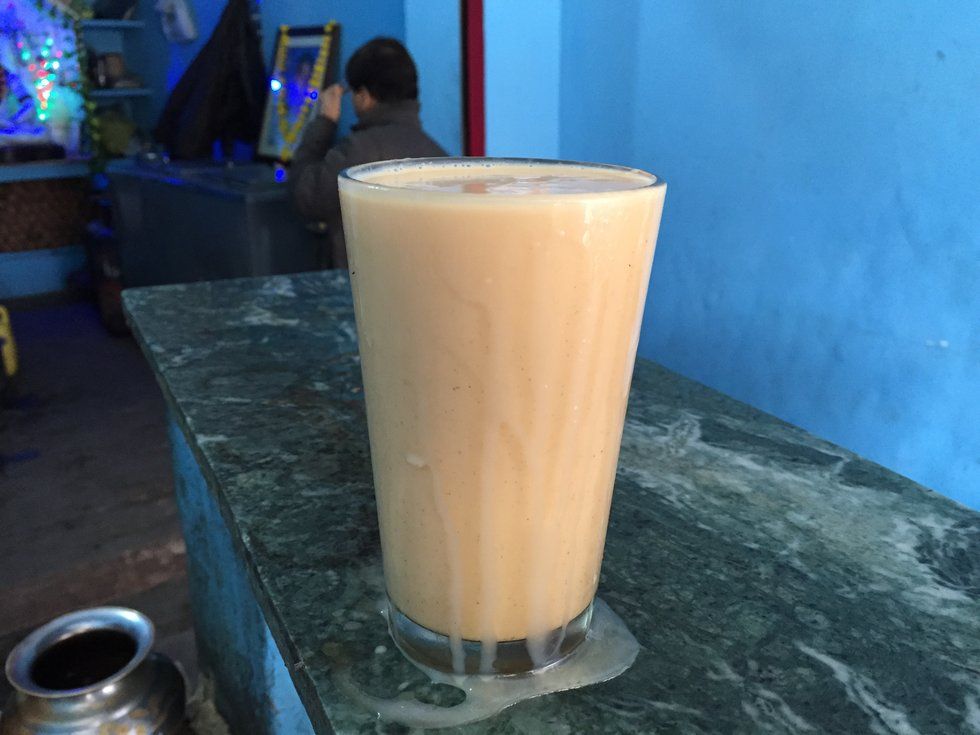 i0.wp.com
So while thronging the locales of Kasturba Market here in Lucknow, do make sure to stop at this hole-in-the-wall joint for your fix of happy high! But do be careful, relishing too many glasses of this beverage can lead to not-so-desirable after-effects.
Location: 10 A, Kasturba Market, Chowk, Lucknow
Timings: 8am – 11pm
Cost: ₹50 for two people (approx.)