The Hiranandani Group has slated an approximate budget of ₹7,000 crore for the project
The Hiranandani Group subsidiary, Yotta Infrastructure, plans to scale onto the northern terrain with the establishment of a 20-acre hyperscale data centre park in Greater Noida, Uttar Pradesh. On Monday, the company laid down the foundation stone of the park in an inauguratory event and as per reports, the structure will be set up at an estimated cost of ₹ 6,000- ₹7,000 crores, which translates to an approximate of $950 million.
---
Data Park in Uttar Pradesh for 'Digital India'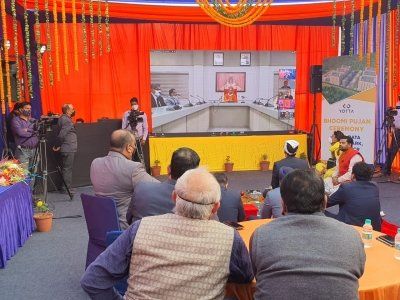 ians.in
This infrastructure will consist of six interconnected data centre buildings offering 30,000 racks capacity and 200MW power. The construction of this park will commence in December and the first building is expected to be operational before July 2022, the company said. During its launch, the co-founder and CEO of Yotta Infrastructure, showcased the entire project and talked about the scale and technicalities of the data centre.

In a statement, the Uttar Pradesh Chief Minister stated that the Hiranandani Group had demonstrated their vision of building a data centre park in the state, even before the formal launch of UP's Data Centre Policy. Furthering the aim of Prime Minister's 'Digital India' vision, this will be the state's first data centre park which will play a key role in unlocking a plethora of possibilities in Uttar Pradesh.
Pledging his alliance to the venture, he added, "Our government and administration will extend all support, during and after the construction of this data centre park." This new centre will contribute in the development of a national data refinery, enveloping the tasks of data processing, data cleaning, innovation and research.
Yotta launched Asia's largest & the world's 2nd largest tier IV data centre in Navi Mumbai
Yotta is a managed data centre service provider that visions to design, build, and operate large-scale hyper-density Data Center Parks in Navi Mumbai, Chennai and Delhi. Earlier, in July, Yotta Infrastructure launched Asia's largest and the world's second largest tier IV data centre in its Navi Mumbai data centre park. The company has also inked an MoU with the Tamil Nadu government to set up a campus in Chennai at an investment of ₹4,000 crore.
-With inputs from IANS