Team SOTY 2's Jaipur trip was filled with cute selfies and stringing puppets
May 04, 2019
Student of the Year 2 team, Tiger Shroff, Ananya pandey and Tara Sutaria, were recently spotted in Jaipur promoting their upcoming movie. Papz captured the team taking cute selfies and playing with Rajasthani puppets while fans await release of the film. SOTY 2 is a sequel to yesteryears blockbuster of the same name, starring Alia Bhatt, Sidharth Malhotra and Varun Dhawan.
The team is actively promoting their film which they believe will break all box office records and create some of its own.
The movie is set to release next week and fans are eagerly awaiting the flamboyant and larger than life characters to whisk them away to a college wonderland. With the trailers and songs being our only point of reference, the movie is expected to be a classic Karan Johar piece with flashy dance numbers and stunning locations. The movie is expected to be a little light on the story and the message, yet be a power packed entertainer.
While the leading ladies are new to the silver screen, Tiger has already garnered a cult following with his previous movies. The sculpted abs and the smooth dance moves are a true buzz creators and fans are waiting for the new Tiger movie to get a glimpse of it all on the big screen. The wait has been long enough and fans cannot wait to see him break into a groove on the "Hook up Song" with Alia Bhatt or shake a leg to "Mumbai Dilli di Kudiyan".
Watch the space for more updates, stories and reviews of your favourite actors, movies and songs.
Jaipur is undoubtedly one of the most sought after tourist hot-spots in the country. The city is thronged by tourists searching tales of past, luxury and hints of forgotten culture in the everyday colours of Jaipur. Jaipur is undoubtedly 'the place to be at' when you're on a luxury vacation and are looking for some unmatched grandeur. The city houses several palaces, forts and heritage homes that have been converted in boutique hotels which can be rented for a day, a week of fortnight to feel like the royalties themselves.
If you're someone who is on a leisurely vacation to Jaipur, this royal residence should undoubtedly be the place for you to stay at. Turned from a Maharaja's residence into a unique boutique hotel, Srinivas is a testament of luxury, grace, great taste and everything that is grand about the city of Jaipur.
Immerse in the finery & grandeur of 'Srinivas'- Residence of Good Fortune
The once residence of the royal family of Jodhpur and Maharaja Karanvijay Singh, Srinivas is a stunning property that lies surrounded by lush greenery and stables that are fit for royal horses. The Srinivas and its facade is visible only after one has entered the property and made a significant round in the gardens. Aided by a pool in the front and a traditional Rajasthani structure, this hotel oozes luxury in every step you take towards it.
From the leisurely outdoor furniture which calls for one to sit on it and enjoy the awe-inspiring view to the welcome are which is simply brimming with splendid furniture pieces aided by lush carpets and luxe wallpapered walls.
Since the boutique hotel was once a residence and has been left with most of the family's possessions, it is quite uniquely charming, as each room is a little different than the other and tells a completely different story. Some more modern and artistic while others more traditional and luxurious, a stay here is sure to make you feel nothing less than a royal yourself.
You might find yourself stopping mid walk, adoring a specific piece of furniture or design as the best of Jaipur's art and craftsmanship has been put on display at the hotel. The view too, does much good to the soul as well as your eyes which will surely find the view of handsome horses running in the grounds as mesmerising anything that the property houses.
Knock Knock
If you're planning to head to Jaipur and immerse yourself in all the material luxuries and worldly pleasure you can find, book a room at the Srinivas and live life king sized. Lounge at the exuberant terrace or read a book by the window of your private suite, a stay at Srinivas will be nothing less than a lesson in luxury.
Subscribe to our newsletter
After a four month long hiatus, one of Jaipur's most famous and common jogging park, Smriti Van is finally reopening for the public. Aimed to be recluse for morning walkers and joggers, the park is certainly a great place to start your day. Now that it will be reopening, Jaipurites can experience nature right here in the city.
The park was closed for the past several months due to a leopard being at large in a nearby forest. It seems that the wild cat has been contained, however, there is no confirmation on this.
What's the update?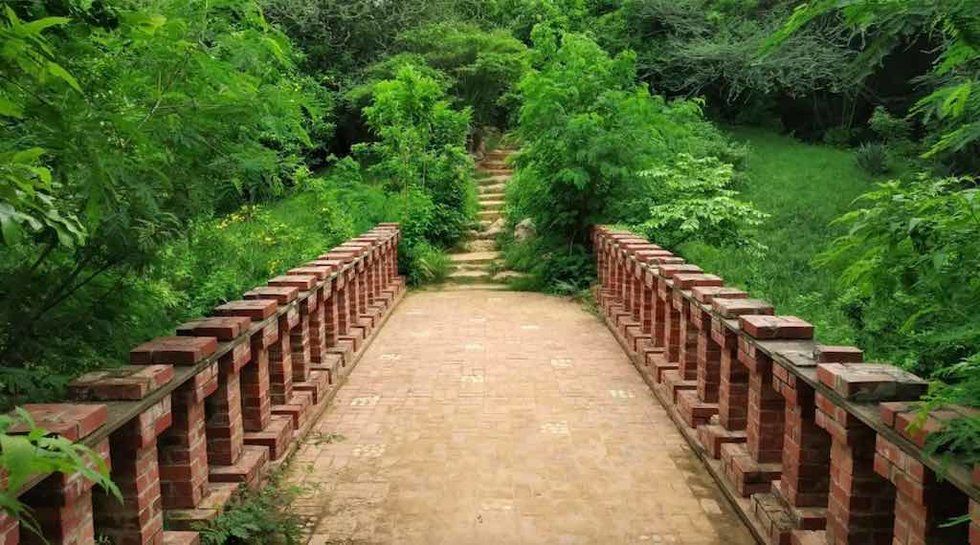 www.jaipurlove.com
Smriti Van can be accessed by those of you who are willing to sign an undertaking and get a proper entry ID. The entire procedure will be charged for and you'll have to shell out ₹55 for just one of these. This can be alluded to the fact that the leopard still roams free.

Essentially, signing up for this is mandatory, meaning that those of you who do go in know the risks involved. To keep a tab on the comings and goings of people, the forms and ID cards should help. Apart from that, there are also strict timing restrictions. Visitors can only be present in Smriti Van park from 7:30 AM to 9:00 AM, which should be enough for a walk or a jog.
With the leopard on the loose, the authorities have taken a few precautionary measures- registration and ID being one of them. They have installed signages, route markers and have made a designated track, which should be enough to keep you out of harm's way. The signages and markers should help you navigate your way through the park in case you're lost.
Knock Knock
So, as it turns out, the park is going to be open for you folks, but just during the mornings. If you're looking to start your day face to face with a leopard, you know where to be.
Like most other places in India, Jaipur's traffic happens to be a huge mess. The traffic condition is often abysmal and there seems to be no respite from it, despite several efforts. In the works is a rather minor but hugely impactful project. In Jaipur, to ease out the traffic 9 road circles will undergo a design change.
The Jaipur Development Authority (JDA) has undertaken this task following a series of suggestions regarding the aforementioned issue. The goal is to make these traffic circles accident free and easy to navigate. The design overhaul of these chaurahas will certainly bring about a change in the movement of traffic in Jaipur.
What's the update?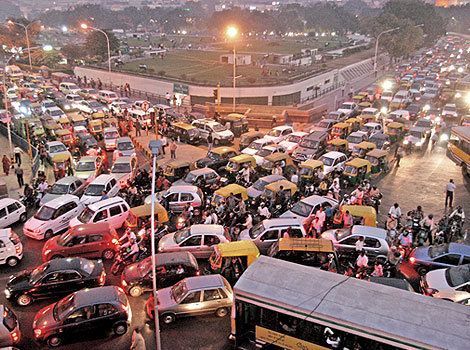 assets.rebelmouse.io
9 of the most congested traffic circles in Jaipur will be altered as part of a project by the JDA. Namely, these are the traffic circles at JDA Circle Square, OTS Circle Square, Rambagh Square, Collectorate Circle, Jawahar Circle, Riddhi-Siddhi Junction, Mansarovar Metro Station, B-2 Bypass, New Sanganer Road Junction.

Currently, these are among the most packed and accident prone circles in the city. This point was reiterated by a survey that the JDA conducted, which proved to have similar results. As part of the design change, adjoining and approach roads will now have zebra crossing marks, while the circle itself will based on an island design complete with medians and a pole.
Implementing these design changes and alterations is expected to take about 6 months, during which time these busy routes will have to be bypassed. To cater for this, there will be bypass roads that daily commuters can use. Additionally, the budget for implementing the project is said to be around ₹1.5 crores. In the future, there are also plans to construct flyovers in the area, if this move has a minimal impact.
Knock Knock
Over the past few months, the traffic condition in Jaipur has been constantly declining. This is a move that should most likely have a positive impact and bring about a much needed change.
Sawai Man Singh Hospital in Jaipur is perhaps one of the largest government run hospitals in the city. The hospital offers state of the art facilities to patients and has often been touted as one of the best medicine centers in the Pink City. Now, the SMS Hospital is set to get a new wing which happens to be the first organ transplant hub of Jaipur.