Goa as a state has long been known as a treasure trove for anyone who seeks culture, natural splendour and good food. The praises for Goa's beaches, its churches and its Portuguese influenced architecture, bring lakhs of tourists to the state's shore. However, Goa isn't just home to splendid churches and European style architecture, one could also find the reminiscents of Indian architecture and ancient culture imbibed in the very heart of Goa.
Goa is a state of many wonders which leaves us curious for the unknown, everytime we delve into unfolding its many layers. If you spend a day with a local here, you'll know exactly how many stories, places and things you are still left to explore even after checklisting an all-inclusive Goan itinerary. So if you have a knack for sniffing out offbeat places which will catch your fancy and be an epic story to our collection, then you've gotta visit Curdi village!
Goa has no dearth of rich history and with each passing day, there's something or the other for us to explore in the land of beaches! Along similar lines, the Cabo De Rama Fort falls under the banner of historically significant locales in Goa which substantially adds to the Indian heritage, we're so proud of. Nestled between two popular beaches in South Goa, Cavelossim and Agonda, Cabo De Rama will teleport you to the yesteryears the moment you'll find yourself here and here's why it is a must-visit!
Subscribe to our newsletter
Though known for its beaches and its exciting party culture, Goa is home to some of the most interesting architecturally and historically interesting buildings. The stark difference between Goan culture and the popular culture of other Southern states is easily visible in the architecture that the state houses. For a history or architecture buff, Goa is a pandora's box, where one can find the best of gothic, European, Portuguese and even Dutch influenced architecture.
So if you're someone who's fond of good architecture and is looking for something fun to do, this heritage walk through Old Goa is just what you need!
What's Happening?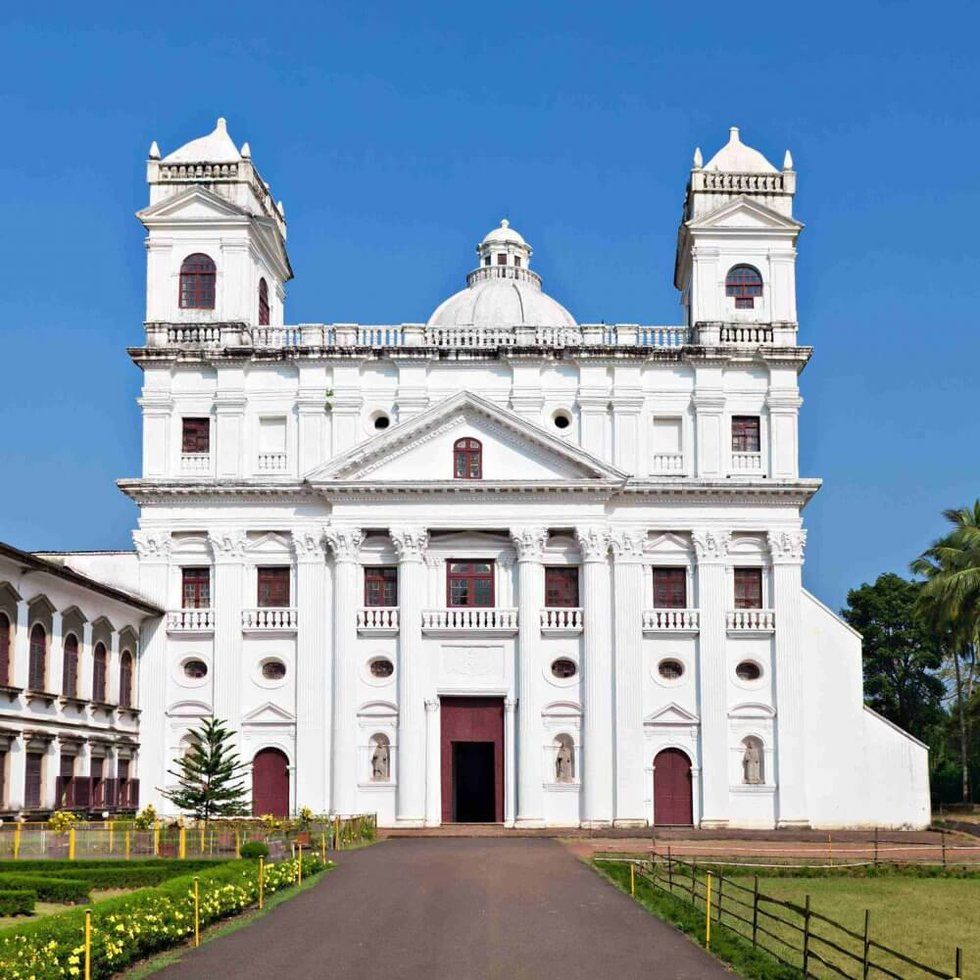 www.cleartrip.com
India Heritage Walks is organising a walk through old Goa for the history and architecture buffs who live in the state. This walk will take you along the lanes of Old Goa where you can explore monuments, old churches and learn about the distinct history of Goa.
The walk will take you on a tour of some of the most famous churches of old Goa including the Basilica of Bom Jesus which houses the remains of St. Francis Xavier, Sé Cathedral- the Church of St Francis of Assisi, the Chapel of St Catherine, the Chapel of Our Lady of the Mount, the Church of Our Lady of the Rosary, the Church of St Cajetan, the Chapel of St Anthony and the ruins of the tower of St Augustine's Church.
The walk will also allow participants a chance to learn and explore the rich cultural history and stories that are popular about these churches and how they came to be in the old capital of Goa.
Knock Knock
The walk is a must visit event for anyone who's looking for something fun and different to do in Goa, especially for those who're interested in history and architecture. The walk discusses many things other than the stunning churches, so if you want to immerse into the culture of Old Goa, this is just where you need to be.
Register Here
Date: February 29th | 7:30 AM onwards
Meeting Point: Viceroy Arc
Goa is a place where you'll never find yourself getting bored or out of options to have fun. This place is full of amazing things to do especially if you are an adrenaline junkie. From waterboarding to paragliding there's much you can do in the state. But the list doesn't stop here. If the aforementioned activities don't give you the much needed kick, a spotting a crocodile would surely do!
When the depth of your love goes beyond the ocean waters, tying the knot at a beach seems like the only acceptable idea.
In fact, beach weddings are a rage during the winter months and destination weddings, don't mean fancy foreign trips anymore. India already houses beautiful places for us to get hitched at and our very own Goa, tops the list.
A vacation in Goa is simply not enough anymore- people want to turn towards a new chapter in their lives, amidst the reclining beaches or at least with a sea-view. So if you haven't decided on a place yet, check out these 5 wedding venues in Goa for some inspo!
Royal Courtyard Goa
Royal Courtyard Gardens is counted amidst one of the budget wedding venues in Goa, which'll provide a majestic view and vibe, while you'll say 'I do'.
The open amphitheater let's you take your vows under the open skies and it is massive enough for lavish wedding ceremonies, being attended by a battalion of guests.
There are gazebos for the guests, terraced gardens for bar functions and wide walkways, which will make your walk down the aisle into a walk to remember.
Marbela Beach Resort
Set on one of the best beaches of North Goa, Marbela Beach Resort in Morjim-Ashvem Road, is handsdown one of the best beach wedding venues. Think luxury, vibrance, delish fares and of course a lavish beach wedding here.
So, if you are looking for the perfect wedding venue here in North Goa, you gotta consider this one. The resort is exclusively dedicated to hosting various events, especially weddings so whatever you need, it'll all be taken care of by the professionals.
Riva Beach Resort
Riva Beach Resort is the ultimate beach wedding venue where you can behold a picturesque lake, verdant sceneries and feel the ocean breeze seeping through your hair.
Located on the white sands of Mandrem Beach of North Goa, this resort provides for a breath-taking sea-view where you feel connected to nature while experiencing their premium services.
Often opted by couples for their weddings and events, Riva provides for a wonderful stay and also, the property is Instagrammy AF!
Vivanta By Taj
Vivanta by Taj – Fort Aguada, Goa, has royalty written all over it. Frequented by celebrities and couples, Vivanta redefines luxury, like no other in the state.
The picturesque setting serves as a highly desirable backdrop on your special day and their spa services, along with the fresh vibes, makes your wedding a less stressful one. You can even avail their Champagne Sunset Cruise, to make your special day even better.
The Zuri White Sands
Tagged as one of the most romantic resorts in Goa, Zuri White Sands highly appeals to couples who're on the lookout for their dream wedding venue. With glam-chic interiors and Portuguese-inspired architecture, this five-star resort in Varca is loved by all.
With sprawling yet manicured gardens lined with a verdant spread of coconut and banana trees, Zuri features four venue areas, of which 2 are outdoors. This resort rests on the sun-kissed beach of Varca and the facilities they provide, makes any event standout.
Knock Knock
Also, South Goa beaches are much more popular than the North Goa ones. It is mostly because almost all resorts in South Goa give you access to a private beach. So choose your venue, wisely.
So now that we have some shed some light on your search for your dream venue in Goa, quickly come over for a recce session to speed things up!
P.S. Look around and finalize local vendors to pull down your costs of importing things you'll be needing!
Goa has been synonymous to beaches, music, fun and booze for a very long time. The natural beauty, the stunning landscape and the Goan culture have made the state a tourist hotspot. There's no denying the fact that it is one of the biggest tourist destination not just in the country but worldwide.
Which also means that Goa has seen a massive degradation in its cultural and exploitation of its natural beauty. With people thinking of creating some bent up version of a Goan holiday where they can cook, booze and party right at the beach. If you're someone who thinks the same, we have news for you.
In attempts to crackdown public boozing, littering at the beaches and making Goa a more tourist friendly destination, the government is tightening the security and scrutiny.
What's the update?
Goa's beaches, tourist spots and monuments have been put under tight scrutiny owing to the incident wherein two tourists drowned in the state. The government had previously put a ban on carrying or drinking alcohol at the beaches or public monuments. The crackdown was planned during the last year's Goa season. The new Goa Tourist Places (Maintenance and Protection) (Amendment) bill- 2019, which was passed unanimously by the Goan legislative assembly, decided to put a ban on cooking and drinking at public places.
Moreover, the bill ensures that any tourist found drinking liquor, cooking or breaking bottles in the public area will be fined ₹10,000 in groups and ₹2000 if alone.
Why the crackdown?
Though the law was passed last year and a permanent ban was put on drinking and cooking at public places, after the recent drowning incident, the government has planned a more vigilant crackdown.
Since, the tourist season is currently in full swing, the ban becomes especially important for those who have come to Goa with the crazy-party image in mind.
The civic authorities believe that the crackdown will also help in preserving the Goan culture and traditions.
Knock Knock
If you've made a 'Goa party plan' or are currently in the state looking for a lit party or a cool bonfire by the beach, we would strongly advice you to carefully plan things. The ban will especially affect the party cravers and the trouble makers who came to Goa with certain expectations in their head.
Goa undoubtedly is one of the culinary hotspots of India and it has somehow managed to retain its vintage charm through all the changes it has undergone over the years! Out of the many offerings which Goa has spoiled us with, it has also given us a Portuguese gem when it comes to beverages, called the Feni.
Goa is known for its array of cashew trees so banking on it, the Portuguese had created this pungent drink 400 years ago and it is still one of the most popular beverages in the state. Since Feni has an integral Goan identity, in the last couple of months, it became a house to the world's first feni cellar and we've got the deets covered!
Started by Hansel Vaz, Beco Das Garrafas, which literally translates to 'alley of bottles' in Portuguese is the world's first feni cellar which is located at the foothills of Cansaulim.
But What is Feni?
Feni is a highly distilled liquor which is derived from cashew nuts so it is basically a fruity spirit with high alcohol content which you can get you drunk in no time! The smell is pungent which makes it a favourite for only a distinct set of people and unlike other tipples, Feni doesn't punish you with a hangover.
The locals also favour Feni because of its content which is known to warm up the body and is seen as an alternative to cough syrup. This organic drink has no added flavours, preservatives and additives and it's sold at really economical pricing across Goa!
More about Beco Das Garrafas!
As you step in here, your nostrils will be greeted by the aromas of cashew fruits and the salty breeze of the ocean and your eyes will witness bottles of various shapes and sizes which were shipped to India back in the 1600s.
You can drop by here for a tasting session which will include insights of this industry and each person has to pay up ₹2,000 but of course, the experience is worth every penny!