5 delivery kitchens in Jaipur which are keeping our food cravings at bay
March 19, 2020
We bring to you 5 of the best delively kitchens in Jaipur that will make your social quarantine just a tiny bit better!
Has coronavirus shut down your office? Are all your friends locked up at home? Are you also distancing yourself from those you love? If your answer happens to be yes, then chances are that you're feeling a bit down. Normally, we would suggest you to go out and have a lavish meal, but in trying times like these, social distancing is the key. Yet, how can we say no to good food, how can we keep sane if not with good food, a satiating dessert or a full meal that fills us right up with love.
---
Which why, this time we bring to you 5 of the best delively kitchens in Jaipur that will make your social quarantine just a bit better. So, if you are tired of the home cooked food, check out these 5 places in Jaipur.
BBQ Company
When those barbecue cravings hit us, all we want is a fresh skewer of chargrilled goodness. Which means in normal circumstances we would simply head out to eat. However, BBQ Company is one place that is ready to give you the perfect BBQ meal right at your doorstep. Though the prices are a bit steep, BBQ company's taste and food is surely worth it.
Kebabs and Curries
In Jaipur, finding some authentic Rajasthani food isn't an issue. However, if you're looking for something else, say, succulent North Indian kebabs, then Kebabs and Curries is your friend. These guys have the best selection of food from all over North India, so if you're looking to experiment, then you've got to try out this place.
Burgs N Fries
For all the times when you want to indulge in big juicy patties encased in soft buns and cool shakes that take the heat away, try Burgs N Fries. These guys have one of the best selections of burgers, sandwiches, fries, shakes and what not. The place will satiate all your snacking qualms and is perfect to order from on a lazy day when all you want to do is just to binge on some great Netflix content!
Midnight Vegas
Our dream of dining in Las Vegas maybe a pipe one, however the experience can be had right here at home! Check out Midnight Vegas to make up for all those dates you missed with your better half and treat them to a delicious meal from these folks. Honestly, their food will just give you an excuse to stay back at home and indulge.
So Cheesy
Budget friendly, reliable and tasty- these are just a few things that describe So Cheesy. These folks are always out to surprise you with their food and more often than not, they accomplish their task. At any rate, we feel that their food tastes best when you've had an extremely challenging day and need something super cheesy to boost your spirits up.
Knock Knock
In Jaipur, finding a sumptuous meal isn't all that big of a deal. Now, however, with the COVID-19 threat on our heads, taking precautions is vital. So, instead of going out, just order a few delicacies to your home and indulge in a fare like no other.
The COVID-19 or Novel Coronavirus is a disease that has taken the entire world by storm. The international epidemic has made its way into India and it is highly crucial to keep a tab on the situation around and how you can keep yourself safe amidst all the chaos.
In these days and times, it is easy to get swamped away by loads of fake reports that don't paint the right picture. So, we've compiled everything here for you folks- all you need to know about the virus and how you and your loved ones can stay safe.
Are you looking for something fun to do this weekend? Bored of all the sitcoms and Netflix binges? Well, it is time to spice up your weekend with Night Jar's Cocktail Festival that promises a whole lot more than just one thing. Spread over four days, the event will introduce you to new music, cuisines, arts and of course, a whole lot of new cocktails.
The Pink City is on a quick path to development with the new and upcoming metro project. The metro is going to bring about a change in how commuters traverse in Jaipur, and now, citizens just may be a step closer to a functional metro.
The underground metro routes will soon undergo inspections from senior officials, which is a step towards making Jaipur Metro Phase IB a reality very soon. Construction for these underground routes has been completed and once the inspections are carried out, Jaipur metro will become functional for the people.
What's the update?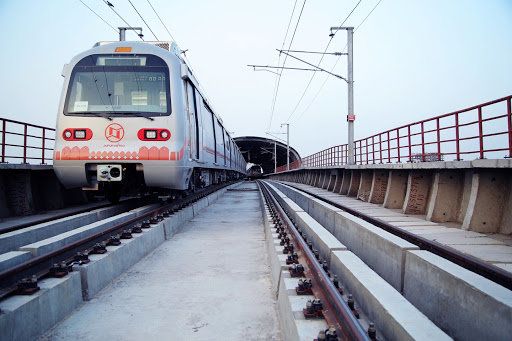 lh3.googleusercontent.com
As part of the inspection, all aspects of Jaipur metro including track parameters, tunnel safety, stations, train systems and other safety precautions will be scrutinized. Such inspections are crucial when it comes to finalizing the metro as it ensures safe and seamless travels while on the metro.

The only thing remaining in the underground metro is the installation of signalling points. The technology helps manage train routes and the tracks themselves. Signalling is also vital in keeping metro trains punctual. Once the technology is implemented, the JMRC will invite the Commissioner of Metro Rail Safety (CMRS) to solidify the whole project.
Phase II of the Metro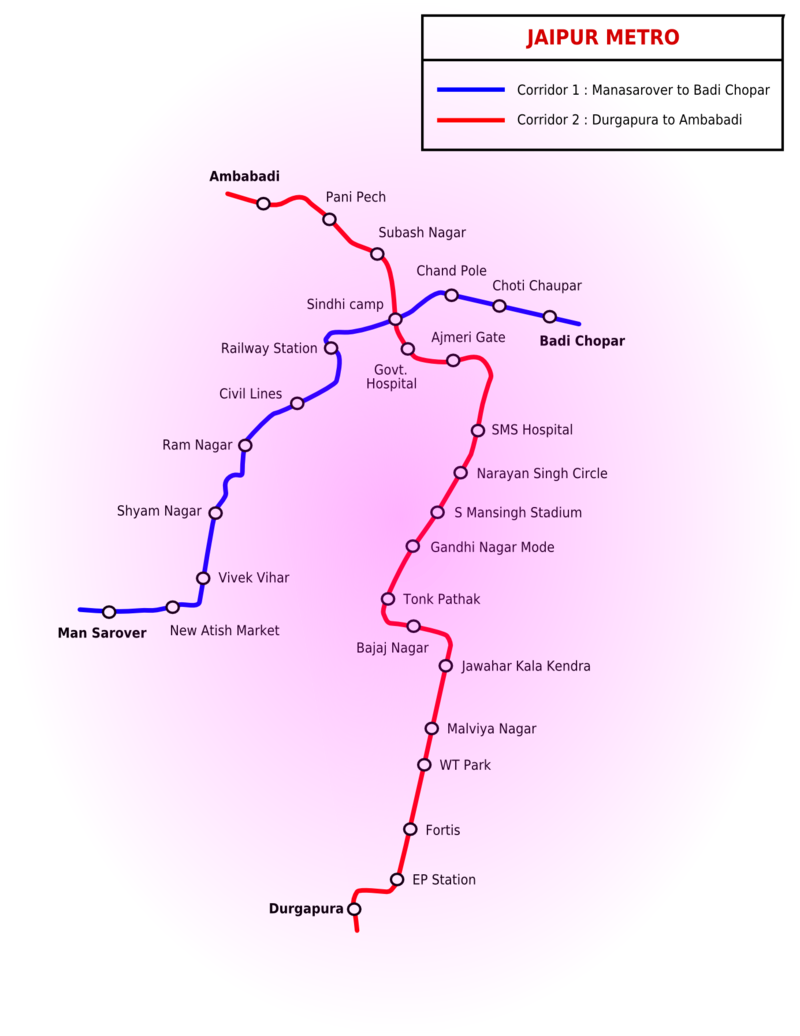 upload.wikimedia.org
Earlier this month, reports suggested that the JMRC was opting for elevated tracks which would help cut down costs. Though that is the case for the metro Phase II, Phase IB will use the newly constructed underground tunnels. To clarify, Phase IA of the metro connects Chandpole to Mansarovar, which is an already functional route.

About Phase IA & IB
The underground metro is a direct expansion of the existing Chandpole to Mansarovar route (Phase IA). Authorities have stated that the goal is to have Phase IB, the expansion of Phase IA ready and operational by the end of March 2020.
The existing Phase IA currently covers a distance of 9.63-kilometers. Once the extension is complete, the total length of the route will be increased to a total of 11.97-kilometers. The Phase IB will have a length of 2.34-kilometers and will have two stations along the route.
The commencement of Metro Phase IB in Jaipur metro will give rise to a better connected city, which is an important step towards progress.