This Crocodile Tour in Goa is the perfect activity for all the adrenaline junkies out there!
February 15, 2020
Watch the crocodiles laze in their natural habitat, capture the fluttering birds and have a gala time.
Goa is a place where you'll never find yourself getting bored or out of options to have fun. This place is full of amazing things to do especially if you are an adrenaline junkie. From waterboarding to paragliding there's much you can do in the state. But the list doesn't stop here. If the aforementioned activities don't give you the much needed kick, a spotting a crocodile would surely do!
---
So if you're looking for a little more fun than just some water-sports, this is something you should definitely be a part of.
What's happening!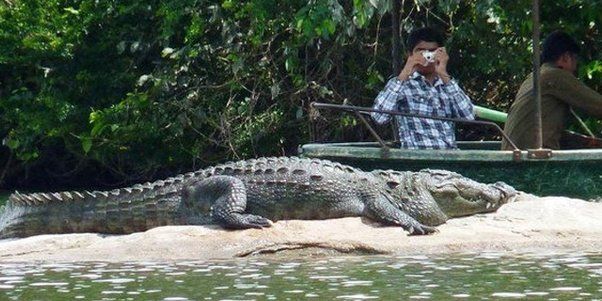 qph.fs.quoracdn.net
When in Goa and looking for fun, this boat ride will check everything on your list! The breathtaking views of nature and of the wild will send chills down your spine.
From snacks to welcome drinks, the ride offers a fun experience and a wonderful photo opportunity that you can boast on for days on your social media accounts.
Though, it's not just the crocodiles that you can spot, the boat ride also offers opportunity to bird watch and click some amazing pictures of the stunning natural beauty around you.
Knock Knock
If you're a nature lover, take this ride and grab on to the opportunity to explore the wondrous splendour of lakes and rivers. Watch the crocodiles laze in their natural habitat, capture the fluttering birds and have a gala time.
Date: 17th-29th February
Tickets: ₹1,499 onwards | Book yours here
Venue: Banda Trips, Shop no. 4 GKP Complex, Shiroli Pulachi, Khobra Waddo, Calangute
A hotspot for domestic and international tourists, visiting Goa is synonymous to wild partying, chilling by the beach and day drinking for many. Till last year, you could see travellers soaking up on a tan by the Arabian sea with a beer in hand but special law which banned drinking at public places, changed that. However, things are going to get better as the tables are turning once again.
Subscribe to our newsletter
For many, Goa is a spot which is synonymous to chilling by the beach, partying and letting yourself loose amidst the sun and sand. But if you're one of those, whose veins are charged with adrenaline and are looking to delve into adventures beyond the beach, we might have something for you.
Whether you're a fan of relaxing brunches, fancy squeezing a quick snack in between your work or just love a late afternoon coffee, Goan cafes have all your moods covered! Given all the options at hand, finding a cup of coffee ain't really a task in Goa but finding the perfect cuppa which ain't anything less than perfect, surely is.